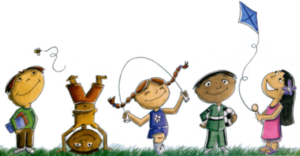 Dear Parents,
Classroom Notes:
SHOW AND TELL- ALL students are invited to bring an item that begins with the letter we are learning for the week on any day of that week. Our focus letter will be "M".
SCHEDULE: Mon-Archie, Averie/ Tues-Brayden, Charlotte/ Wed-Emery, Kamilah/Thurs-Kylie, Kyson/ Fri-Sierra, Westyn
* Entering our building:
7:45-8:30= School Entrance Door or West Door by playground
8:30-4:30= Church Office Door
4:30-6:00= Ring the doorbell at the West Door by playground

Coming Up!
Monday, Oct 31- Fall Festival Party! More Information to Come!
Learning Goals:
Bible= Noah And The Flood Genesis 6- 8
Bible Verse= "Remember me, O LORD." Psalm 106:4
Character Building= TEAMWORK- Working together for one common goal. "May the God who gives endurance and encouragement give you a spirit of unity among yourselves as you follow Christ Jesus . . ." Romans 15:5
Focus Letter= "M"
Math= Writing Number 3, Sets of 2
Science= Sink or Float, Evaporation, Animals
---
We have ANTS!  In a farm!  Charlotte takes time to observe our new friends with the magnifying glass.  My, they are busy creatures!  We watch them carry pieces of sand, while they build their tunnels.  It is so interesting to learn about the animal and insect kingdom that our God created.  Any morning when you have time, please do ask your child to show you our ant farm.
---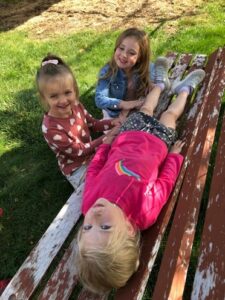 We all felt bad for Charlotte when she fell and skinned her knee at recess.  After Miss Lori applied band aids, Kylie and Averie decided Charlotte needed a doctor.  They brought her to the "clinic" and were very caring in providing her with medical attention and comfort.  Good friends are a blessing indeed!  And by our last recess Charlotte felt strong enough to race around the playground!
---
Archie is eagerly participating in our science investigation.  We used our 5 senses to learn about marshmallows!  Can you hear a marshmallow?  (Well, yes, when you hold it by your ear and rub it gently.)  How did it feel? (Soft and when torn apart-sticky.  Dipped in water it was slimy! )  Smell?  (Oh, so good!)  Taste? (Yep!  That was the best part!  Sweet!)
---
With A Thankful Heart,
Miss Lori
School: 442-6913 Lori's Cell: (360) 322-2659 lradtke@firstlutheranhelena.org