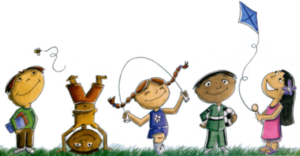 Dear Parents,
Classroom Notes:
Show And Tell- Mon-Archie, Averie; Tues-Brayden, Charlotte; Wed-Emery, Kamilah; Thurs-Kylie, Kyson; Fri-Sierra, Westyn
Coming Up!
May 29= Memorial Day-No School
June 9= Last Day Of School! SAVE THE DATE! End of the Year Program & Field Day
Learning Goals:
Bible= Rhoda And Peter's Surprise Acts 12
Bible Verse= "Call upon Me in the day of trouble; I will deliver you."  Psalm 50:15
Character Building= FORGIVING – To let go of your bad feelings for others when they hurt you.
Focus Letter= "Z"
Math= Review, Shapes
Social Studies= Living/Non-Living, Worms
SPIRIT WEEK! MAY 22-26
MON.= PAJAMA DAY! (PJ'S, Bathrobes, Sweats)
TUES= WILD HEAD & FEET DAY (Crazy Hair, Hats, Crazy Socks)
WED= SUPER DAY (Super Hero, Super Princess or Magical Friend)
THUR- PATTERN DAY (Stripes, Polka Dots, Checkered, Zig Zags, Designs)
FRI- FAVORITE COLOR DAY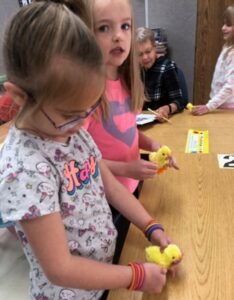 Each student colored their paper "egg" which was taped to the seat of their chair.  Kids sat on their eggs for a few days and then, lo and behold, those eggs hatched!  When students entered the classroom on Thursday morning chick peeping could be heard.   (Thank you, You Tube!)  It was quite exciting as students and peeps played together.  Of course, each chick was named and cared for.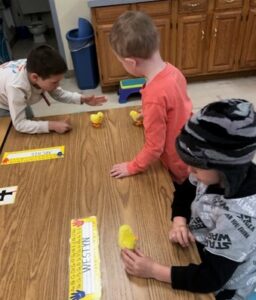 Just how fast do these guys go?  Let's find out!
With Chick in hand the fun is about to begin!
Hey, did you hear the news?  A worm was found at recess, and we brought the lucky fellow inside to live in our worm farm.  We are sure he is quite happy and content in his new surroundings.  God's creation is so interesting for all of us!  We do have room for more worms in our farm habitat and would happily accept donations.  Anyone out there have earthworms to share?
With A Thankful Heart,
Miss Lori
School: 442-6913 Lori's Cell: (360) 322-2659 lradtke@firstlutheranhelena.org