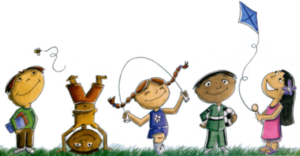 First Lutheran Pre-K Nov 17-30, 2023

Dear Parents,
SHOW AND TELL:
Monday-Beckham, Bella; Tuesday-Charli, Hollyn;  Wednesday-Everett, Kaden;  Thursday-Percy, Presley;  Friday-  Rhys, Rory
Learning Goals:
Learning Goals: Bible=  The Ten Commandments  Exodus 19
Bible Verse= "Love the LORD your God."  Deuteronomy 6:5
Character Building= PATIENCE- Not complaining but to remain calm.
Focus Letter= "R"
Friday- Return Book Bag!
Academics= Math– Subitizing 1-5  "The ability to identify small amounts of items without counting them.  When subitizing, you know there are 6 cupcakes without counting!  Subitizing greater numbers requires seeing clusters within sets.  Subitizing is a way for children to recognize numbers and their patterns.  When we teach kids how to subitize, it helps them become more efficient thinkers when doing math!  Strategic and efficient thinking is something that can be developed early.
Health–Healthy Food
Coming Up!
Nov.17= BRING A BEAR TO SCHOOL DAY!  We will celebrate the letter "B".
Tues, Nov. 21=THANKSGIVING CELEBRATION! Students are invited to dress as a Pilgrim, Native American, or turkey! Thank You: Percy-Popcorn, Rhys-Drinks, Presley- Veggies or Fruit, Charli- Healthy Snack, Rory-Treat, Beckham- plates & napkins.
Nov. 22-24= Thanksgiving Break- Please note that school is not in session on the 22nd, 23rd and 24th.  HAPPY THANKSGIVING!  I am so thankful to work with your children each day.  They are truly a blessing and a lot of fun!
Thursday, Dec. 21= FLS Christmas Program @ 10:00.  Parents and Friends are invited to attend.  We have already begun practicing our Christmas songs.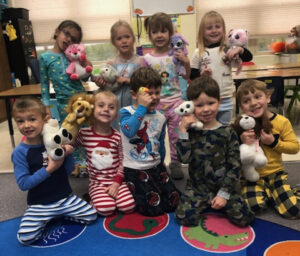 Pajama Day was a success!  We acted out the poem, "There were 10 in the bed and the little one said, Roll over!  Roll over!".  A big sheet became the bed, and everyone laughed as they rolled over!  And yes, the little one fell out each time!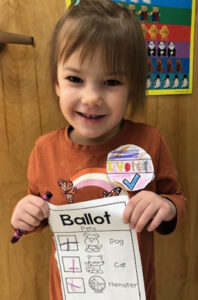 Learning about voting was a "Hands On Activity".  Hollyn  displays a sample ballot. Each student voted for their favorite animal.  Not only did we mark our choice, but we also signed our ballot.  Votes were tallied and counted. 
With A Thankful Heart,
Miss Lori
School: 442-6913 Lori's Cell: (360) 322-2659 lradtke@firstlutheranhelena.org