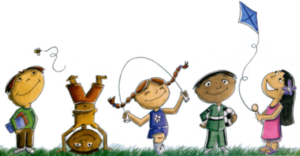 Dear Parents,
Classroom Notes:
Show And Tell- Mon-Archie, Averie; Tues-Brayden, Charlotte; Wed-Emery, Kamilah; Thurs-Kylie, Kyson; Fri-Sierra, Westyn
Coming Up!
REGISTRATION FOR 2023/24 FIRST LUTHERAN PRE-K/ PRESCHOOL NOW OPEN!
1/20= Report Cards (Please return envelope. Keep report card.)
CONFERENCES:
1/24=Sierra 3:20, Charlotte 3:40, Emery 4:00, Kamilah 5:00
1/25=Archie 4:00
1/26= Brayden 4:00
1/27=Kylie 7:30, Averie 3:20, Kyson 4:00
Thursday, Feb 2– Groundhog Day and Hibernation Party!
Learning Goals:
Bible= The Good Samaritan Luke 10
Bible Verse="We love because He first loved us." 1 John 4:19
Character Building=UNDERSTANDING –  To sympathize with others.
Focus Letter= Review
Math= Ordinal Numbers
Science= Hibernation, Dissolving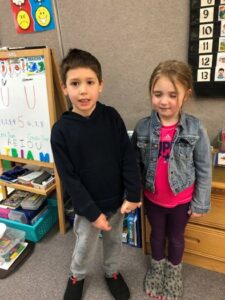 After learning how Jesus healed Bartimaeus, we enjoyed a Trust Walk activity.  One partner was "blind" with closed eyes and the other guided them around the room.  Surprisingly there were very few bumps!  And most of our friends really kept their eyes closed!  We talked about how it felt to not be able to see where they were going and having to rely on their partner.  Then we discussed how God guides us through the Bible and prayer.
Archie and Averie make a great team!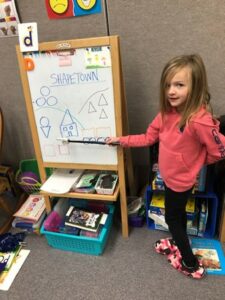 MLK Day- Miss Lori told the story of Shapetown.  The shapes did not like each other, and they would not play together.  One day the circles accidently rolled down the hill and landed on the rectangles.  They made a wagon!  All the shapes were delighted and began making wonderful creations together! 
Kylie retells the story.  She makes a great teacher!
 Then we worked together in teams and used shape blocks to make spectacular designs.  Averie and Westyn show us how to work together!
With A Thankful Heart,
Miss Lori
School: 442-6913 Lori's Cell: (360) 322-2659 lradtke@firstlutheranhelena.org