View Available Sermons online
2023_11_19 from Brian Buhr on Vimeo.
---
Big THANKS for Small Things!
Recently I stumbled upon an episode of the PBS series Nature called "My Garden of A Thousand Bees." It was filmed in the Urban Garden of wildlife filmmaker Martin Dohrn at the beginning of lockdown in 2020. What he did was record all the bees he could find in his tiny urban garden in Bristol, England, filming them with lenses he had forged on his kitchen table. The results were amazing! He captured small little bees on a scale I had never even realized was possible. Even though they are small, the importance of bees cannot be understated. They are the most important pollinators in the world and help sustain plant life. We all know if we didn't have plants for the food chain we wouldn't survive.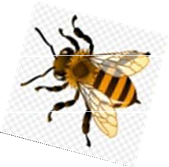 Seeing things on such a small scale led me to find other similar shows. I came across one called, "Tiny World." Funnily enough, it is narrated by Paul Rudd of Ant-Man fame. It reminds me how something little can make a big impact. This show showcases nature's lesser-known tiny heroes, spotlighting the extraordinary things they do to survive. A little creature it highlighted on an episode I watched was the Elephant Shrew, which is very tiny, yet very fast, and finds amazing ways to thrive in the middle of the African Savannah.
Why do I share about these tiny creatures? It is easy for us to give thanks for the big and obvious things: our nation, our church, our families, and our things. But as Psalm 104:24-25 reminds us, God makes all things great and small and calls us to give thanks for them all. "How many are your works, Lord! In wisdom you made them all; the earth is full of your creatures. There is the sea, vast and spacious, teeming with creatures beyond number—living things both large and small."

A hymn entitled "Creator, We Thank You for All You Have Made" written by Carolyn Winfrey Gillette, reminds us of giving thanks for small things. She writes,
"God, thank You for rainfall that ends a long drought, For cracks in the sidewalk where little weeds sprout, For birds that build nests in the tops of the trees, for hot summer days when we feel a cool breeze."
 As commentary for her hymn Gillette writes, "In cities, suburbs, and rural areas, too, we find evidence of God's creative, loving work. When we are praising and thanking God, it is good to look not just at the "big categories" of creation – land, sea, and air-but to celebrate the little details. Take a walk down the street. Look for weeds growing up through the cracks in the sidewalk. Can you identify one plant from another? Can you hear the differences in the birds' songs?"
As we ponder these questions this season of Thanksgiving let's give God big thanks for small things: for different colors, for bees, for a cup of coffee, for being able to breathe in and out, for a cup of water. As we do so this Thanksgiving (and always?) I believe gratefulness will increase in our life!

As always, let's give thanks for the greatest small Gift anyone has ever received: the little Baby we will celebrate on Christmas. Let's give thanks because little Immanuel will be with us! Give big thanks for the small things indeed!
As we think about giving thanks for our Messiah, let's also share His love in little ways. Some people, in really hard places might have a hard time seeing what to give
thanks for at all. In these times we can encourage them with small acts of love. As they see us in action, they might just echo our actions and give thanks to God for all the tiny things of life with us. In doing so their lives may be transformed by God in a big way forever!
Heartily thanking God for YOU!

---
---
If you are looking for a church home, we encourage you to consider First Luther! We love to share the Good News of our Savior and the help that God's Word gives to our everyday lives! Our congregation consists of people like you from every part of our nation. People seeking a sense of belonging and an opportunity for worship, growth and fellowship. May you find grace and blessing in the time we spend together. We would love to tell you more about our congregation.
First Lutheran School provides a Christian education that nurtures the spiritual, intellectual, and personal growth of each child. The school provides another means for First Lutheran Church to bring the Word and love of God in Christ Jesus to more families.
Special thanks to those in the Armed Forces! We welcome our military and others far from home. We pray for you.