View Available Sermons online
2023_03_19 from Brian Buhr on Vimeo.
---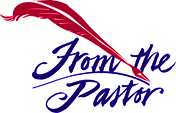 Dear Brothers and Sisters in Christ,
The late, great theologian Erma Bombeck once wrote, "In church the other Sunday I was intent on a small child who was turning around smiling at everyone. He wasn't gurgling, spitting, humming, kicking, tearing the hymnals, or rummaging through his mother's handbag. He was just smiling. Finally, his mother jerked him about and in a stage whisper that could be heard in a little theater off Broadway said, 'Stop grinning! You're in church' And with that she gave him a belt on his hindside and as the tears rolled down his cheeks added, 'that's better,' and returned to her prayers." She goes on to say "I wanted to grab this child with the tear-stained face and hold him close to me and tell him about my God. The God of joy. The smiling God. The God who had to have the sense of humor to have created the likes of us."
I suspect that many may wonder just how much pleasure and joy is appropriate for Christians. Confession, repentance, self-sacrifice are indeed dominate themes of the faith. Yet, the call to 'rejoice' is also repeated throughout the Bible. Still, we have taken this whole business of pleasure and joy out of God's hands. Which may well account for why we are such a "pleasure-seeking" people and yet such a joyless people as well.
Why do we seek God's answers in the pits of suffering yet not think of God for guidance and wisdom when it comes to our pleasure? In many ways we have reversed the dilemma of Job. Job knew that all good came from God and was puzzled why he was getting bad. We seem to say that all bad comes from God and look to ourselves and to the world for pleasure and joy.
When we divorce our search for pleasure and joy from the will of God, we inevitably look for pleasure in unfaithful ways. The Bible is filled with examples of people who try to find pleasure apart from God only to be disappointed if not ruined. The clearest example may be that of Solomon. He could be called, "The Pleasure King." Solomon tells his own sad story saying, "I thought in my heart, 'Come now, I will test [myself] with pleasure to find out what is good… I refused my heart no pleasure. But in the end, "everything was meaningless, a chasing after the wind; nothing was gained under the sun.'"
Solomon was searching for joy under the sun rather than in the Son. The futility of his experience is repeated as many pursue what promises pleasure apart from God only to find that it brings disappointment, meaninglessness, even despair. Never before has there been so much available for the purpose of providing pleasure. And never before has there been so much despair among so many. So much of the pleasure that this world offers displays a sign that reads, "Free Admission." It costs nothing to get in, but a great deal to get out: A ruined character; a guilty conscience; a broken relationship.
Compare Solomon to his father, David. David's search for pleasure is in the Lord. David writes, "You are my Lord, apart from you I have no good thing." David understood that all goodness including that which gives pleasure comes from God. He writes, "You have made known to me the path of life; you will fill me with joy in your presence, with eternal pleasures at your right hand." (Psalm 16:1,11). The testimony of David is that life is filled with joy when it is lived in the Lord. Unending and satisfying pleasure comes from the Lord. In Him we can satisfy our desire for pleasure and our hunger for true joy.
The angels announce "joy to the world, the Lord has come." Jesus offers us "complete joy." He says, "As the Father has loved me so I have loved you. Now remain in my love. I have told you this so that my joy may be in you and your joy may be complete."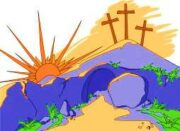 The Christian faith is not a theology of sorrow and sadness. It is a theology of joy! Real joy is to be found in a faith relationship with the One who has established true joy through His death and resurrection. I pray that we will each experience that joy during the Lenten and Easter seasons. Only in our crucified and risen Savior will our joy and pleasure ever be "complete!"
Joy-Fully Yours in Christ,

---
---
If you are looking for a church home, we encourage you to consider First Luther! We love to share the Good News of our Savior and the help that God's Word gives to our everyday lives! Our congregation consists of people like you from every part of our nation. People seeking a sense of belonging and an opportunity for worship, growth and fellowship. May you find grace and blessing in the time we spend together. We would love to tell you more about our congregation.
First Lutheran School provides a Christian education that nurtures the spiritual, intellectual, and personal growth of each child. The school provides another means for First Lutheran Church to bring the Word and love of God in Christ Jesus to more families.
Special thanks to those in the Armed Forces! We welcome our military and others far from home. We pray for you.