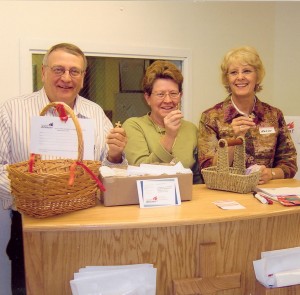 Download the November 2021 First Word
Download the October 2021 First Word
Download the September 2021 First Word
Our Congregation's Mission ~ is sharing God's Word with everyone, everywhere!
Completed Commitment Forms ~ may be placed in the Offering Plates (in the back of the Sanctuary) for dedication to God today, or returned at any time. Blank forms for your use are also available. Please see an usher or the Elder.
The High School Bible Class ~ will meet in the basement Youth Room at 9:45 a.m. today!
The Return of Ezra ~ (Ezra 7-8) is what we study today in our Adult Bible Class in the Fellowship Centre beginning at 9:30 a.m.! Join us for coffee, goodies, and fellowship as we study this miraculous work of God and His people, and grow in our understanding and faith in our faithful-to-His-promises Lord Jesus as we study His Word!
Thanksgiving Dinner Sign Up ~ Don't forget to sign up for the Turkey Dinner with all the trimmings hosted by Roger and Loretta Schultz on November 24 at 5:30 p.m. (There will also be ham!). Sign-up sheet is in the kitchen.
Confirmation Classes, HIS Kids!, and Chancel Choir ~ will take a Thanksgiving holiday this Wednesday (and will not meet)!
Our Thanksgiving Eve Worship Services ~ on Wednesday, November 24, will begin at 12:10 and 6:30 p.m.! Join your heart and voice with those of your brothers and sisters in Christ in thanking our gracious God for His amazing, abundant, rich blessings!
Christmas Cards ~ will be available for sale Sunday, November 28 through December 12 in the Ziegler Hall. Packages of 10 cards will be available for $5 apiece. Card packages include secular/religious of varying themes. Many of the "secular" cards have scripture added to make them more reflective of the season. I hope you will consider purchasing packages as the proceeds go directly to our F.L.Y. YOUTH PROGRAM here at the church. Many thanks to those of you who have supported this ministry!! ~ Janice Larison
Save the Date! ~ Women's Christmas Event on Thursday, December 9, 6:30 p.m. to 8:30 p.m. Theme: "Jesus is the Sweetest Gift." Please sign up in the Fellowship Hall and pick up a flyer for more details. We hope you can join us!
The Sunday School Children ~ will be presenting "The Christmas Tree: Symbols of Salvation" on December 12th during the 11:00 service. We will be practicing during our Sunday School "opening time" at 9:45 on Sundays November 21, December 5th and December 12th. Please come and be blessed by the message of Jesus' birth as told by the children! If you have questions, please contact Darcy Goodson (581-5768) or Tara Mercer (438-3402)
Christmas for Our Developmentally Disabled ~ Our Christian friends with developmental disabilities will love the extra-long or regular length twin sheet sets (please include receipt with regular length sheets) they'll receive from you this Christmas! Please select cross ornaments from the tree in the narthex after Thanksgiving and use the ornament with name attached on each UNWRAPPED sheet set you purchase and return by December 12. Thanks for your generosity and we pray that the heart of each recipient will be open to grow in faith – for the gift of eternal life is available to all who believe! If you prefer to give cash or a grocery gift card (for the Christmas dinner that will be provided at each group home), please enclose these in a Christmas Card with a note on the back of the envelope as to the contents in the envelope – indicate "grocery gift card" or "cash/gift card for sheet sets". Blessed Christmas to you!
First Lutheran School News ~ "Pp" is for Pajama Day!! What fun the students had celebrating the letter "P" with a thankful heart. Our students strive to be thankful as they spend time learning how to appreciate what they have or what someone does for them. "Be joyful always, pray continually; give thanks in all circumstances…" 1 Thessalonians 5:16-18.
First Lutheran School is Hiring! ~ Please speak with Sue Taylor if you feel called to teach, play, and learn about the love of God with 3-5 yr. old's. They are a blessing every day! You can reach Sue at (406) 442-6913 or email staylor@firstlutheranhelena.org.
A Note to Parents ~ Please ensure that your children are accompanied by an adult when going to the basement of the church building. This includes, but is not limited to, preschool children, elementary aged children and middle school children. Unfortunately, we have had some children who have engaged in destruction of school supplies and interfered with materials. Therefore, the children have been informed that they are not to be in the basement without an adult. We would like to request that parents monitor the location of their children and assist with ensuring their supervision in the basement. Thank you.
On The Lutheran Hour Next Sunday ~ "A Response to the Problem of Evil" Speaker: Rev. Dr. Michael Zeigler. Why does God let evil happen? Will that question take us down the path of doubt or lead us to trust God more deeply? (Luke 1:1-4) The Lutheran Hour may be heard Sundays on Christian Satellite Network, 91.1 FM, at 8 a.m., and on Sirius XM 131, Family Talk.
A Life Quote from Lutherans for Life ~ "We pray for God's light to shine on all of our decisions and that every aspect of our lives would be fulfilled within the boundaries of His Law and Gospel. We do not want our worry to guide our search for daily bread (Matthew 6:25-34). Rather, we rely on God's Promise and receive what He has provided with thanksgiving. For we know that with Jesus we have daily bread that endures, even to everlasting life (John 6:28-29)." Rev. Justin A. Herman, University Lutheran Church, West Lafayette, Indiana – A Life Quote from Lutherans For Life o lutheransforlife.org
Please Pray For ~
+ Those Needing God's Help and Healing ~
+ Our Stewardship of All God's Gifts ~ that His Word may reach out to our members and communities that more may hear about Jesus, and believe, and be saved ~ by His rich grace!
+ All the Citizens of God's Kingdom ~ (all believers) that we may live as God's people and grow in our worship and praise of Christ, our King, until the day when He takes us to His heavenly kingdom!
And Praise God For ~
+ Blessing our Congregation and School ~ and so many others beyond us, with the tithes and offerings and gifts our members and friends give for the mission and ministries we carry out together in Jesus' Name!
+ His Amazing Grace ~ by which He gifts us with all that we need for life in His kingdom – and so much, much more, to share with others!
+ Making Us Members ~ of His body – the Church, and citizens of His Kingdom, by His sweet grace in Jesus, our King!
Our Thanks to God ~ and to those who respond to God's great love, in service to our Lord and to us this Sunday, November 21:
Musicians – Shari Miller
Elders/Communion Assistants – Rick Northrup, Brian Buhr
Lectors – Seth Siefken, Deborah Knudsen
Ushers – Cliff Ulmer, Wally Smith, Larry Laposky, Tom Smith
Children's Message – Pastor Miller
Financial Aides – Linda Fromm, Bert Poor
Altar Guild Leah Ellwen
Acolytes Asher Hollatz