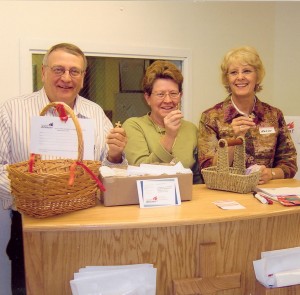 Download the January/February 2020 First Word
Download the December 2019 First Word
Download the November 2019 First Word
Guests – a special welcome to you! If you are looking for a church home we encourage you to consider First Lutheran! We love to share the Good News of our Savior and the help that God's Word gives for our everyday lives! We would love to tell you more about our congregation. Please join us again!
Paul and Barnabas' First Missionary Journey! – in our study of Acts 13 which will be our focus in Bible study, today at 9:45 a.m., in the Fellowship Centre! We'll learn more about the beginnings of the Christian church and the amazing work of the Holy Spirit through the Good News about Jesus which the early believers spread to the four corners of the world and through which God turned the world "upside down." Please bring your Bible and your curious heart and join us!
Today is Lutheran Hour Sunday! – To learn more about this ministry of The Lutheran Church – Missouri Synod, go online to LHM.org. You can support this work of our church in a special way by using the envelope stuffed in our bulletin today and by keeping LHM in your prayers.
Sunday School – A Weather Wonder – Jesus Calms a Storm (Mark 4:35-41) With the simple command, "Peace! Be still!" (Mark 4:39), Jesus proclaims His power over a storm strong enough to shake even
experienced fishermen. With the disciples, we must ask, "Who then is this, that even the wind and the sea obey Him?" (v. 41). How can your family respond to this question?
Our Midweek Supper – begins at 5:30 p.m. each Week! Roger & Loretta Schultz will be whipping up something delicious! If you are interested in helping in the kitchen, what are you waiting for? Sign up today!
Take a Break! – with your brothers and sisters in Christ Wednesday in our worship service, beginning at 6:30 p.m. You'll be blessed by God's Word and Sacrament this Wednesday. Please join us!
O.W.L.S.* – celebrates "Love Month" this Thursday from 11 a.m. to 1 p.m. Watch your email box or pick up a flyer for the details! (*Older, Wiser, Loving, Saints is the 55ish+ ministry of our church).
The Transfiguration of Our Lord – is our festival service next Sunday (beginning at 8:15 or 11 a.m.). Jesus used this miraculous change to make a huge difference in the disciples' lives (not to mention ours) on this mountaintop day. The Sacrament of Holy Communion and the Word of God will be central in both services, as it is, in every Sunday service at our church.
Task Force – At a special meeting held on Sunday, February 2, Mission and Ministry Council members voted to sanction a task force to research the continuation of First Lutheran School, Helena, Montana. Congregational members interested in being part of this task force are asked to contact Trish Pentecost, Dennis Brown, Anita Elvbakken or Kim Ballard immediately. Thank you.
Ash Wednesday – and the beginning of the holy season of Lent will be observed on February 26. Services will be held at 12:10 and 6:30 p.m. throughout the six weeks of Lent. Please make your plans to be present and to be blessed!
A New Pastor's Discovery Class – will begin on Thursday, February 27! If you, or someone you know, could benefit from this overview of the Bible and Christian doctrine, as a review or to prepare for membership in our congregation, please contact us in the Church Office. God has changed numbers of lives through this Bible study!
Our Appreciation to – Philip & Lisa Tullis and friends for preparing, serving, and cleaning up after our dinner. You are all greatly valued!
Our Heartfelt Gratitude – to our sanctuary cleaning volunteers, Rick & Lori Northrup, for your gracious service to us all! Ken DeKam is scheduled to serve this week. Thanks for your willingness to help!
D.Pare's Things I Believe – When life gets too hard to stand…kneel.
The Food Share Items – for February will be Rice & Pasta. Please place your food donations in the receptacle under the mailboxes in Ziegler Hall.
On the Lutheran Hour Today – "Happy Families Are All Alike" Speaker: Dr. Dean Nadasdy. God is at work to bring about His good purpose, even in unhappy families. (Genesis 50:15-26) Tune in next week: "Happy Families Are All Alike". The Lutheran Hour may be heard Sundays on Christian Satellite Network, 91.1 FM at 8 a.m.
Life Thoughts in the Church Year – For two generations, forty years, Lutherans For Life has been declaring and demonstrating the sanctity of human life. Is our courage and compassion making any difference, with abortion ongoing and assisted suicide expanding? "[N]either he who plants nor he who waters is anything, but only God who gives the growth" (1 Corinthians 3:7). He retains responsibility for all outcomes; our privilege is participating in His miraculous activity!