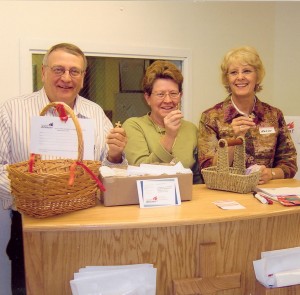 Download the December 2019 First Word
Download the November 2019 First Word
Download the October 2019 First Word
Download the September 2019 First Word
Guests – a special welcome to you! If you are looking for a church home we encourage you to consider First Lutheran! We love to share the Good News of our Savior and the help that God's Word gives for our everyday lives! We would love to tell you more about our congregation. Please join us again!
The Messiah Has Come – is the message of Acts 8 which will be our focus in Bible study, today at 9:45 a.m., in the Fellowship Centre! We'll learn more about the beginnings of the Christian church and the amazing work of the Holy Spirit through the Good News about Jesus which the early believers spread to the four corners of the world and through which God turned the world "upside down." Please bring your Bible and your curious heart and join us!
Sunday School – "Claimed and Tested." At Jesus' Baptism in the Jordan River, the heavens open, the Spirit descends, and the Father speaks: "You are My beloved Son" (Luke 3:22). Jesus goes from the waters of Baptism to the wilderness, where He faces a series of temptations from the devil. Jesus resists each one as He speaks the truth of God's Word against the lies of Satan. Ask one another, "How can we use God's Word as we defend our faith?"
DEADLINE for First Word: 5 p.m. on Wednesday, January 15, to: lindafromm@mac.com OR place a hard copy in the First Word box in the church office.
Our Midweek Supper – begins at 5:30 p.m. each Wednesday! Please join us for a light meal, yummy food, and good fellowship with your fellow-believers in Christ.
"Give Me a Break!" – may be your cry, already in these first weeks of 2020 AD. We have a well-deserved break for you Wednesday in our worship service, beginning at 6:30 p.m. Please join us!
Our *OWLS January Event – will be this Thursday, January 16, from 11 a.m. to 1 p.m.! Watch your email box or pick up a flyer today for all the known details. (*Older Wiser Loving Saints – is our 55+ish seniors group).
"Did God Really Say…?" – was a question asked long ago by a deceiver in a garden. People are asking the same question yet today concerning issues of life and death. Please worship around Word and Sacrament next Sunday, with us, beginning at 8:15 and 11 a.m. to hear once again what God did and does really say to us and our world.
Youth Room Clean-up – F.L.Y. has scheduled a day to get the youth room clean, painted and reorganized. If you would like to help we will be at the church on January 20th starting at 9:00 a.m. We will have lunch and make this a fun work day getting our youth room fresh and fun!
A New Pastor's Discovery Class – will be forming to begin soon! If you, or someone you know, could benefit from this overview of the Bible and Christian doctrine, as a review or to prepare for membership in our congregation, please contact us in the Church Office. God has changed numbers of lives through this Bible study!
Family Bible Study – Come sail into a new Bible study on "Noah, the man, the ark, the flood" from Lutheran Hour Ministries. Set sail Friday January 24th at 6 PM in the Fellowship Centre. We will take an introductory look into this four-part video series. This is not for eight souls but for the whole family. Wee little sailors can enjoy some Veggie Noah stories. For more info contact Brian & Susan Buhr.
Your Offering Envelopes – for 2020 are in your mail box in Ziegler Hall. If you cannot find them there (or if you do not yet have a mail box) please let Sydney, our Administrative Assistant, know.
Thank You – Lowell Bartels would like to thank everyone for their prayers and support. He is cured but healing.
Joyous Thanks and Our Love in Christ – to each of you for your undeserved but most-appreciated prayers and words of support and your inspiring cards and gifts at Christmas!
~ Pas+or and Shari Miller ~
Warm Hearts is an ecumenical ministry of the Sisters of Charity of Leavenworth Associates of Helena. With your generosity to Warm Hearts last year, the poor in Helena were warmed with 140 blankets and 225 towel sets throughout the year! This January, we invite you to help us fulfill their needs for this year. Donated new twin blankets and new towels (bath towels, hand towels and washcloths) will be distributed through organizations serving the poor in the Helena area-Willis Cruse House, Family Promise, God's Love, Florence Crittenton Home, Good Samaritan Ministries, Rocky Mountain Development Center, The Friendship Center and the YWCA. Please drop items in the box underneath the mailboxes by February 3.
Our Heartfelt Gratitude – to our sanctuary cleaning volunteers, Steve & Melinda Longsworth, for your gracious service to us all! No one is scheduled to serve this week please sign up to help clean the sanctuary.
D.Pare's Things I Believe – We should live our lives as if Christ were coming this afternoon.
The Food Share Items – for January will be Canned Soup. Please place your food donations in the receptacle under the mailboxes in Ziegler Hall.
On the Lutheran Hour Today – "People are Treasure" with Rev. Dr. Michael Zeigler. New Series – "Words create a picture of life, life as it really is, life as it could be. And so, if you want God to be your Treasure, you need a vision of life with God. I want a vision of life with God because I want God to be my Treasure, even as I know that, in Jesus, I am His. (Genesis 39) Tune in next week: "Unforgettable". The Lutheran Hour may be heard Sundays on Christian Satellite Network, 91.1 FM at 8 a.m.
Life Thoughts in the Church Year – "[A] bruised reed he will not break, and a faintly burning wick he will not quench" (Isaiah 42:3a). He who went into the water with sinners (Matthew 3:6, 13) doesn't let human impairments impede His redeeming. A body broken by deformity He will not discard in abortion, and a person incapacitated by disease He will not abandon in physician-assisted suicide.