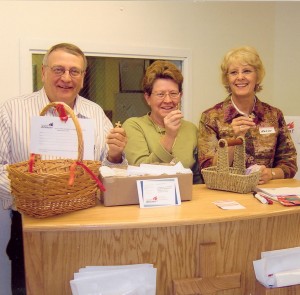 Download the April 2019 First Word
Download the March 2019 First Word
Download the January-February 2019 First Word
Guests – a special welcome to you! If you are looking for a church home we encourage you to consider First Lutheran! We love to share the Good News of our Savior and the help that God's Word gives for our everyday lives! We would love to tell you more about our congregation. Please join us again!
Rev. Scott Kerns – LCMS Chaplain from Malmstrom Airforce base in Great Falls is our guest Bible Class leader TODAY. Please join us in Bible Class at about 9:45 a.m. for a special opportunity to learn more about the mission and ministry of the Chaplaincy to those in our armed forces.
Our Order of Service Today – Please use your Lutheran Service Book hymnals today. We will use Divine Service, Setting Three which begins on page 184, and all sung parts of the liturgy will be spoken. We sing Hymns 470, 466, and 917.
Pastor and Shari Miller – are visiting Jeff and Johanna Allen (their children), in California for a few days, and plan to return to Helena tomorrow. should you need pastoral help, please call the church office (442-5367) or Pastor (431-8828) and keep them in your prayers for safe travels.
In Sunday School today – The story "Jesus Heals Jairus's Daughter" serves as the focus of Sunday School today. Just as Jesus calmed the storm with His Word for the frightened disciples, so He calms and ends the storm of sin and death by taking our sin upon Himself and dying in our place so we may live eternally. Consider discussing "What did Jesus do to calm the storm? How does Jesus calm the storms in our life?"
Thank you to Rev. Scott Kerns – LCMS Chaplain from Malmstrom Airforce Base in Great Falls, who is our guest worship leader and preacher today.
Our Midweek Break Worship – (beginning at 5:30 p.m. on Wednesday) will be a blessing – of your pots (and the stuff in them)! The entree will be provided. Please bring a side dish or dessert to share.
Resurrection Revelations – Join us next Sunday for worship at 8:15 or 11 a.m. as we hear God's Word and take a "detective's look" at the wondrous account of Jesus' Resurrection and continue the celebration of Easter!
Easter Breakfast – will be served on April 21, beginning at 7:15 a.m. Breakfast is being served by our youth, youth leaders, and parents.
Restore the Roar – we'll complete our study of the Old Testament book of Amos next week in our Adult Bible Class in the Fellowship Centre, beginning at 9:45 a.m.! Please do join us and continue to grow in God's Word!
The First Word – in May will be a little late to your mailbox. Watch for it the beginning of next week!
The Board of Human Care Annual Garage Sale – was a success! Thank you to all who helped with the organization, set-up, and take-down of the sale. A big thank you to members of First Lutheran for all the donations. All proceeds from this sale are used to assist families and individuals in need within our church and community.
"Future and Hope" – You are invited to join us for an inspirational evening at the Options Clinic Annual Fundraising Banquet Thursday, May 2, from 6 – 8:30 p.m. Reservations are required and seating is limited. Call 422-1011 to reserve your spot!
Follow the Leader – On Saturday, May 4, 2019, LWML presenters will bring training resources to women and church workers in Montana. We want to equip current and future leaders to continue to share Jesus within their communities and throughout the world. Sessions will be held at Trinity Lutheran Church in Billings and First Lutheran in Missoula.
Are You a Short-Term Missionary? – The LWML Montana District is sponsoring a short-term mission trip to Dakota Boys Ranch from June 3-6, 2019. All expenses (lodging, housing) will be paid by the district, except your travel to get there. Contact Shari Miller if interested or see the current Montana Missive for details. Maybe we can get a carload to go!
Our Thanks to – Philip and Lisa Tullis for preparing, serving, and cleaning up after our midweek supper. We appreciate you!
Our Heartfelt Thanks – to our sanctuary cleaning volunteers, Bryan and Emy Stueve, for your gracious service to us all! John and Connie Onstad and Ken and Emily DeKam are scheduled to serve this week. Thanks for your willingness to help!
The Food Share Items – for April are nut butters and jelly/jam. Please place your food donations in the receptacle under the mailboxes in Ziegler Hall. In May, our food donations will be pantry staples such as salt, pepper, flour, sugar and cooking oil, etc.
On the Lutheran Hour Today – "Disturbing Cognitive Dissonance," with speaker Rev. Dr. Michael Zeigler. Doubt is a normal part of our present human experience. Only the presence of the risen Jesus will overcome it. (John 20:19-31) Tune in next week:"The Good Fisherman." The Lutheran Hour may be heard Sundays on Christian Satellite Network, 91.1 FM at 8 a.m.
Life Thoughts in the Church Year – Young men and maidens together, old men and children! Let them praise the name of the Lord!(Psalm 148:12-13) Every life – however little, however weak, however seemingly miserable – has been brought forth by our good God for joyful purpose. He takes hold of even the most hopeless-looking situations (Revelation 1:18) to show – and share – His abundant, everlasting life (John 20:27). Behold it, believe it, and receive it!