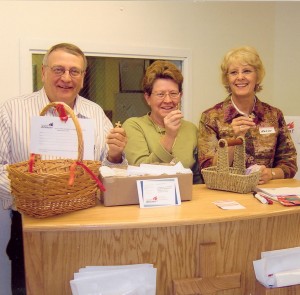 Download the April 2021 First Word
Download the March 2021 First Word
Download the Jan. – Feb. 2021 First Word
"No Doubt About It" ~ This morning is "Doubting Thomas Sunday" as God speaks to us through His Word to move us each from doubt to belief, and from fear and confusion to faith! Blessings as you worship our risen and living Savior and grow in faith in Him!
Guests ~ a special welcome to you! If you are looking for a church home, we encourage you to consider First Lutheran! We love to share the Good News of our Savior and the help that God's Word gives for our everyday lives! We would love to tell you more about our congregation. Please join us again!
The Antichrist ~ may be a topic of discussion in our Adult Bible Study, meeting in the Fellowship Centre, this morning at 9:30 a.m. (with time for fellowship and coffee), but Christ, our ever-living Savior is the center and focus of our lesson in Second Thessalonians. Please join us!
Elders ~ Monday at 6:30 p.m.!
School Advisory Committee ~ will meet Tuesday, April 13, at 5:30 p.m.
The WOW (Women of the Word) Group ~ will meet for Bible study on Tuesday evening, April 13, at 7 p.m. in the Fellowship Centre. We are looking at Jonah.
A Midweek Supper ~ will be served Wednesday, beginning at 5:30 p.m. in the Fellowship Centre. Thanks to Roger and Loretta Schultz for our supper last Wednesday! If you would like to prepare (and serve, and help clean up after) a Midweek Supper and / or desserts for the meal, please sign up on the sheet in the kitchen!
Get a Midweek Spiritual Lift ~ from God's Word in our Wednesday worship service beginning at 6:30 p.m.! Come ready to shout and sing your "Alleluias" for Jesus is risen!
Our April O.W.L.S. (Senior Ministry) Gathering ~ will be this Thursday (April 15) from 11 a.m. to 1 p.m. in the Fellowship Centre. Watch for details.
The Young Adult Fellowship Group ~ will also meet this Thursday at 6:30 p.m. in the Fellowship Centre. This month they are studying Zephaniah.
Thus it is written.Thus it is fulfilled.Thus it is proclaimed.Thus it is believed.~ Speaking of the Resurrection of Jesus and our resurrection to life, as well! God, in His powerful Word, has these sure words for us! Join us next Sunday, beginning at 8:15 and 11 a.m. to hear the truth of God's written, fulfilled, proclaimed, and believed Word about Jesus and the difference Easter makes for our lives!
A Memorial Service ~ praising God for His mercy and grace in the life of Ed Hartman will be held on Friday, April 23, at 1 p.m. at First Lutheran, with burial and a reception following. Please plan to join us, if you can, and support Pat and Ed's family through their time of grief and loss.
First Lutheran School News ~ Our school registration for next school year is open and the slots are filling quickly. With our school growing, we look forward to the opportunity to spread the message of God's love with more children and their families. Please feel free to take school flyers from the back table and hang them at your favorite locations in the community.
Volunteers for Yard Work and Grounds Keeping ~ for spring, summer, and fall are needed for 2021. Returning volunteers and new volunteers are asked to sign up on the Volunteer List in the Church Office. This year we have an additional riding lawn mower to help get the work done more efficiently. This new mower will only be operated by those trained to use it safely AND who successfully demonstrate their skill. This is a requirement of the Board of Trustees and the insurance carrier. If you are interested in operating the new mower, please contact Dave Kraft at (406) 299-0358, and sign the volunteer list.
Our Live Worship Services ~ can be viewed online at www.firstlutheranhelena.org on the weekend after we hold them in our Sanctuary! Our many thanks to Tempest Technology (Shawn and Lisa Peterson) and Brian Buhr for the hours they give to make this available week after week after week!
Help Us Deliver God's Mercy ~ to help meet the needs in our congregation and beyond, as God allows. If you know of folks needing our help, give us a call!
You Can Give Your Gifts and Tithes and Offerings ~ to Your Lord and His Church in person in our worship services, online at www.firstlutheranhelena.org, by mail, by dropping it off in the office, or by placing it in our safe and secure mailbox on the parking lot side of the building. Your good stewardship continues to enable us to minister to our congregation and communities in response to God's love!
On the Lutheran Hour Next Sunday ~ Listen to the sermon titled, "One Greater Than Mrs. McCallister" by Speaker Rev. Dr. Michael Zeigler. Where does one go to hide from God? Dr. Zeigler says the book of Jonah is about God, on a mission to get through to you. (Jonah 1) The Lutheran Hour may be heard Sundays on Christian Satellite Network, 91.1 FM at 8 a.m.
A Life Quote from Lutherans for Life ~ "Christmas, Good Friday, and Easter clinched it for Paul. If God's Son, divine and holy from all eternity, would take on human flesh for me, obey the commandments for me, suffer and die for me, and rise again to guarantee my forgiveness and resurrection, there can be no doubt. He loves me." (Rev. Mark Jeske, Time of Grace)
Please Pray For ~
+ Those Needing God's Help and Healing ~
+ God's Direction and Blessing ~ for our Montana Legislature as they make choices and decisions that will impact every Montanan's life;
+ Every One of Us ~ that the message of the resurrection (Jesus' and ours) will move us from fear to faith in our life and hope for the life to come!
And Praise God for ~
+ The Unique Opportunities He Gives Us ~ to share His love in all sorts of ways during these interesting times, in the family of God and beyond, in word and deed to share God's care and cures!
+ By His Grace ~ through His Word and Sacrament, helping us to get through these challenging days and times!
+ The Message of Easter ~ and the amazing life and hope God gives us as we live in the light of our risen-again Savior and His Open Tomb!
+ Thank God ~ for those who respond to God's great love in service to our Lord this Sunday, April 11:
Organist ~ Shari Miller
Elders/Communion Assistants ~ Rick Northrup Marty Baumann
Lectors ~ Marjorie O'Rourke Dylan Klapmeier
Ushers ~ Cliff Ulmer Wally Smith, Larry Laposky Tom Smith
Children's Message ~ Kate Johnson
Financial Aides ~ Nancy Bowe/Jeannie Hubbard
Altar Guild ~ Lisa Tullis Kim Stue