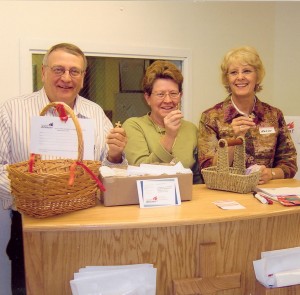 Download the June 2019 First Word
Download the April 2019 First Word
Download the March 2019 First Word
Guests – a special welcome to you! If you are looking for a church home we encourage you to consider First Lutheran! We love to share the Good News of our Savior and the help that God's Word gives for our everyday lives! We would love to tell you more about our congregation. Please join us again!
Pastor and Shari Miller – are attending the Miller Reunion with Pastor's brothers and sister and families today. They will return on Wednesday. Our thanks to those who ably serve in their places today to God's glory and for our good, including Marty Baumann and Brian Buhr – worship leaders, Tara Mercer – pianist, Bruce Nachtsheim – Bible study leader, and others!
Prophecies Fulfilled! – in Jesus! Is our lesson for today in our Adult Bible Study, beginning at 9:45 a.m. in the Fellowship Centre. Please join us as we consider the truths of God's Word in the Old and New Testaments for our lives as His people. You'll be blessed!
In Sunday School – Join us to learn about Jesus walking on water
Take a Break – this Wednesday for our Midweek Supper – The Elvbakkens will be cooking up a delectable dinner! Come enjoy the super tasty cuisine and the astonishing fellowship! It all commences at 5:30 p.m.
Get a Lift from God's Word – beginning Wednesday at 6:30 p.m. His messages of love and forgiveness in Christ will make getting through the rest of your week just a little easier and more fulfilling.
Our *O.W.L.S. Gathering this Thursday – (from 11 a.m. to 1 p.m.) takes us to the baseball diamond (in First Lutheran's Fellowship Centre) for fellowship and food and growth in our faith. Sylvia and "Lonnie" Lonnquist will be present live to entertain and lead us. Please do not miss it! Watch your email or pick up a flyer for the details! (*O.W.L.S. = Older (than 55ish). Wiser (than we were). Loving (and loving it). Seniors (saved by Jesus)!
"Sitting or Serving?" – is the question of the day which Jesus poses in our Gospel (Luke 10:38-42) for next Sunday! Join us for worship (including the Sacrament of Holy Communion in BOTH services), beginning at 8:15 or 11 a.m. to see which role best suits you (Perhaps both?).
Some of Our Youth and Adult Leaders – and some 22,000 other LCMS members have been meeting the past few days in Minneapolis for the LCMS National Youth Gathering. They will return on Tuesday. Please join our group next Sunday, during the Sunday School and Bible Class hour to hear their stories and about our Real.Present.God.!
Save the Date! Pastor and Shari invite you to join them as they celebrate their 40th wedding anniversary and 35+ years of ministry together. The celebration will be held between services on Sunday, July 28, during the Bible study hour. Joshua, Johanna, and Jeff will be joining in the fun as well. Come see pictures from the past 40 years and plan to join us. No gifts, but cards are appreciated. Thanks!
Help Trim our Lawns! – We are still looking for volunteers to help make our campus trim and neat and beautiful. Please sign up on the sheet on the white bulletin board in Ziegler Hall if you can serve in this way. Thank you from the trustees and from us all!
First Word – If you or a family member graduated college or other institution of higher education this spring, please provide First Word Editor Linda Fromm the following information:
Name of graduate
Parents' (or grandparents') names (if applicable)
School from which student graduated
Type of degree
Plans for the future
Deadline: Wednesday, July 17, before 5 p.m.
Submit information to: lindafromm@mac.com or place your information in the First Word box in the church office.
Vacation Bible School! – Registration is now open for VBS! August 5-9
9 a.m. to noon for children 4-12. There are registration forms in Ziegler hall or you can register online! The link is on our website. Save the date for this Miraculous Mission and find out how Jesus saves the World!
Stuff the Bus – The box for the annual Stuff the Bus is up! Located in Ziegler Hall, it lists what school items are needed. Monetary donations are graciously accepted as well. Checks would be made out to The Angel Fund and given to Sydney.
Our Appreciation to – Terry Wareham and friends for preparing, serving, and cleaning up after our delicious midweek supper. You are all greatly valued!
Our Heartfelt Gratitude – to our sanctuary cleaning volunteers, Chuck & Kim Ballard, for your gracious service to us all! Steve and Melinda Longsworth are scheduled to serve this week. Thanks for your willingness to help!
DPare's Things I Believe – Pray, your way, throughout the day!
The Food Share Items – for July will be cereal. Please place your food donations in the receptacle under the mailboxes in Ziegler Hall.
On the Lutheran Hour Today – "Turning Point" with speaker Rev. Dr. Michael Zeigler. Belonging to God–Baptism. "Baptism is a portal that puts the baptized person on the cross with Jesus. You get transported through time and space into the world's most important turning point. But how can plain water do that?" (Romans 6:1-11) Tune in next week: "Relationship. Relationship. Relationship" The Lutheran Hour may be heard Sundays on Christian Satellite Network, 91.1 FM at 8 a.m.
Life Thoughts in the Church Year – The Good Samaritan's mercy didn't lead him to end a life, even though the Jericho-going fellow lay before him half dead already (Luke 10:30). God Himself doesn't snap His fingers to erase human ailments. Getting involved the way Jesus does and accompanying others in their hurts proves more costly and complicated than putting them out of our misery. But why settle for just arranging a funeral when we can gain a friend instead?