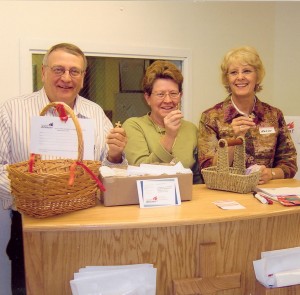 Download the December 2020 First Word
Download the October 2020 First Word
Download the September 2020 First Word
Guests ~ a special welcome to you! If you are looking for a church home, we encourage you to consider First Lutheran! We love to share the Good News of our Savior and the help that God's Word gives for our everyday lives! We would love to tell you more about our congregation. Please join us again!
First and Second Thessalonians ~ will be our Bible texts for Adult Bible Study for the next weeks. Class begins at 9:30 a.m. each Sunday in the Fellowship Centre. Please join us for coffee and study of these New Testament books!
Watch Our Worship Services ~ online at www.firstlutheranhelena.org! Our many thanks to Tempest Technology (Shawn and Lisa Peterson) and Brian Buhr for the hours they give to make this available week after week after week!
Get a Midweek Lift ~ each Wednesday, beginning at 6:30 p.m., in our live Midweek worship services! The Sacrament of Holy Communion will be celebrated this Wednesday.
From Invisible to Indispensable! ~ is our theme, based on First Corinthians 12:12- 26 for our Life Sunday live worship services next Sunday! What a precious gift God gives each person and what a sacred calling we have to strive to keep all human life, at every age and stage, sacred. Please join us for Word and Sacrament at 8:15 or 11 a.m.!
Chancel Flowers ~ If you would like to sponsor flowers for a service, memorial- birthday-anniversary, etc., contact the church office at 442-5367 to schedule.
Our Elders ~ are ready, willing, and able to help. Just give them a call! Brian Buhr ~ 449-9961; Allen Keim; Rick Northrup ~ 422-7319; and Marty Baumann ~ 442-8114.
In Christ's Name, Let's Tell of His Love ~ for us and for others at all times and bring God's mercy to help meet the needs in our congregation and beyond, as God allows. If you know of folks needing our help, give us a call!
Through Your Gifts and Tithes and Offerings ~ your good stewardship continues to minister to our congregation and communities! You can return your offering by mail, or drop it by the office, or in our safe and secure mailbox on the parking lot side of the building. You can also give online (www.firstlutheranhelena.org).
On the Lutheran Hour Next Sunday ~ Listen to "Why Jesus Told Parables" Guest speaker: Rev. Dr. Michael Zeigler. Jesus' parables draw His followers out of the crowd and into the circle of His disciples. (Mark 4) The Lutheran Hour may be heard Sundays on Christian Satellite Network, 91.1 FM at 8 a.m.
Life Thoughts in the Church Year ~ Can anything good come from Nazareth?" (John 1:46). Can anything good come from surprise pregnancy? Can anything good come from chronic illness? Jesus is both promise and proof of the wonders that come from just such contexts. Miracles come from Nazareth. Forgiveness comes from Calvary. Almighty God put them there. And He also created, redeemed, and called both worth and purpose into every human body (1 Corinthians 6:19), no matter what size, skills, or circumstances.
Please Pray For ~
+ Those Needing God's Help and Healing ~
+ Those Caring for Others ~ affected and afflicted by the coronavirus, financial worries, violence in our cities, and so many other challenges of this time of epidemic at home and abroad, that God would especially watch over, protect, and deliver them.
+ Our Montana Legislature ~ for God's direction and blessing as they make choices and decisions that will impact every Montanan's life;
+ We, His People ~ that we may hear His call and follow, in faith, where He leads!
And Praise God for ~
+ The Unique Opportunities He Gives Us ~ to share His love in all sorts of ways during these interesting times, in the family of God and beyond, in word and deed to share God's care and cures!
+ Helping Us to Get through These Challenging Days and Times ~ by His grace, through His Word!
+ Being Our Rock and Our Salvation ~ no matter what the devil, our world, and our own sinful flesh may send our way in the days, months, and years to come;
+ Giving Us Jesus, His Son ~ who lived a perfect life for us, suffered and died for us, rose again for us, and will come to take us home to Himself in the glories of heaven, all according to His good and gracious will for our lives!