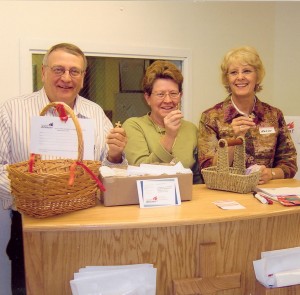 Download the September 2019 First Word
Download the July-August 2019 First Word
Download the June 2019 First Word
Guests – a special welcome to you! If you are looking for a church home we encourage you to consider First Lutheran! We love to share the Good News of our Savior and the help that God's Word gives for our everyday lives! We would love to tell you more about our congregation. Please join us again!
"How We Got the Bible" – is the title of our newest Bible study, continuing at 9:45 a.m. today, in the Fellowship Centre. We'll learn about the amazing production, collection, transmission, and preservation of the 66 books of the Bible, featuring Dr. Paul L. Maier. Dr. Maier shares his expertise and enthusiasm on the preservation and transmission of God's Word through the centuries in this study. Please join us!
Our Midweek Dinner will be Meatloaf – this Wednesday! If you are willing to prepare meals, please sign up today or talk to Lisa Tullis about joining forces with someone else. Join us to fill your heart and your belly! It all commences at 5:30 p.m.
Worship with Holy Communion!!! – Join us for Midweek Worship, beginning Wednesday at 6:30 p.m. Please worship with your brothers and sisters in Christ in this weekly service.
Older.Wiser.Loving.Saints. (55+ish year-olds) – this Thursday, September 19 (11 a.m. to 1 p.m.), is our next event. We're going on a pilgrimage. The details are on their way! Please journey with us.
Adult Bible Study – Join us September 19th at 6:30 in the fellowship hall for a new Bible study group! This will be an opportunity for the 20 somethings – 55ish people to get together to learn more about the word and join together for fellowship! This first meeting will be for information / introduction. Be there or be square!
"Use Worldly Wealth to Win Eternal Friends" – Jesus encourages in the parable that makes up our Gospel for next Sunday (Luke 16:1-15). Please join us for worship at 8:15 or 11 a.m. and see what God has to say to us in His Word.
Dinners for 8 – You love to eat AND especially with great people like 1st Lutheran friends….so Dinners for 8 is the answer!! Come to the kick-off meal at Matt and Anita Elvbakken's home (3550 Tizer Rd) on Friday, September 27-6:30 pm-and bring a fixing for a taco/taco salad bar and your own beverage! The Elvbakken's will provide the meat so we need to bring tortillas (soft, hard, chips), cheese, salsa, tomatoes, sour cream, lettuce, etc. People with last names that start with E, J, L, S-please bring dessert. RSVP by text/call Anita to 431-5505 to let them know numbers by 9/23, Monday.
Come prepared to sign up for hosting a dinner and we'll draw for guests there. If you CANNOT attend on 9/27, text/call Laurie Stelter 439-7075 to leave your name and preferred host month/s so you are included in this seasons dinners. Any ?s-contact Laurie. Y'All come now!!! It'll be FUN FELLOWSHIP with your FAITH FAMILY FROM FIRST (Lutheran)!
"The Military BibleStick – gives me peace of mind to know daily that God loves me and has me in His care as well as my family and friends."- Staff Sergeant, U.S. Army. Watch for your opportunity to support this ministry of "Faith Comes by Hearing" and our nation's military men and women, with your matched gifts, coming SOON!
Our Appreciation to – Lisa and Philip Tullis, Rachel Blair, Shari Miller and friends for preparing, serving, and cleaning up after our dinner. You are all greatly valued!
Our Heartfelt Gratitude – to our sanctuary cleaning volunteers, Jean Hanson and Dennis & Cheryl Brown, for your gracious service to us all! Conrad & Julie Eklund are scheduled to serve this week. Thanks for your willingness to help!
The Tree of Life Foundation – The Foundation, that provides the billboard and sign ministry, is having a fundraiser banquet on September 19th at 6:00 p.m. at the Brondel Center in the lower level of Saint Helena Cathedral. Dinner, catered by Chili O'Briens, is free of charge and there will be a silent auction. The Honorable James A. Rice, Associate Justice on the Montana Supreme Court will be the featured speaker. RSVP by September 12 to Dan Wing 406-439-4715 or by email danielwing1956@gmail.com. If you have any further questions please ask Tim Schrader or Ruth Stelter.
LWML – The LWML Montana District Fall Retreats will be held September 20-22, 2019, at Trinity Lutheran Camp in Bigfork and Makoshika State Park in Glendive. We invite you to attend! Please see the information in the bulletin today or read more about it in the Summer Montana Missive. A registration form can also be found online, along with a retreat agenda, at www.mtdistrictlwml.org.
D.Pare's Things I Believe – I agree what is wrong with me can be found in God.
The Food Share Items – for September will be fruit juice. Please place your food donations in the receptacle under the mailboxes in Ziegler Hall.
On the Lutheran Hour Today – "The Dream Is Alive" with speaker Rev. Dr. Michael Zeigler. Genesis Series – The fall of man… and still, the God of Abraham, Isaac and Jacob wants to relate to you and to me with grace and truth. (Genesis 3)Tune in next week: " Intervention". The Lutheran Hour may be heard Sundays on Christian Satellite Network, 91.1 FM at 8 a.m.
Life Thoughts in the Church Year – Paul confesses to some serious wickedness: "I was a blasphemer, persecutor, and insolent opponent" (1 Timothy 1:13). Abortion also belongs to this list of severe sins. Only His own even greater mercy compelled Christ Jesus to come into the world, bringing precisely the grace, love, patience, and eternal life that our evil deeds attempted but failed to obtain for us. He saves nobody but sinners and forgives even the foremost violences against life (1 Timothy 1:15).