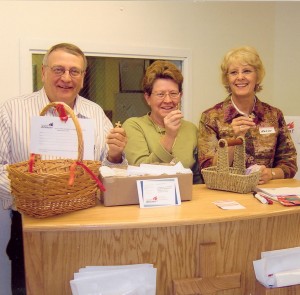 Download the September 2022 First Word
Download the August 2022 First Word
Download the June/July 2022 First Word
They're All about God ~ and our relationship with Him, by grace, through Jesus! What are "they"? They're Commandments One and Two, and their meanings, from Luther's Small Catechism, and the subject of our next lessons in our Adult Bible Class: Living God's Ten (Commandments). Join us today, beginning about 9:30 a.m. in the Fellowship Centre to learn a little about yourself and a lot about our God!
The Board of Elders ~ will meet Monday, September 19, at 6:30 p.m.
The Board of Human Care ~ will meet Tuesday, September 20, at 5:30 p.m.
First Word Articles ~ for October events are due to Linda Fromm by 5:00 p.m., Wednesday, September 21. If you have something to share, you may email your articles to Linda at lindafromm@mac.com or place a hardcopy in the First Word box in the Church Office.
A Midweek Supper ~ will be served this Wednesday, beginning at 5:30 p.m. in the Fellowship Centre. We hope to see you there for this yummy fellowship meal!
Could You Use a Midweek Break? ~ Join us this Wednesday at 6:30 p.m. for an ample serving of God's Word and the forgiveness, life, and salvation He gives through the Sacrament of Holy Communion!
Our September *O.W.L.S. (Senior Ministry) Gathering ~ will be this Thursday, September 22, from 11 a.m. to 1 p.m. in the Fellowship Centre. Watch your email or pick up a flier for more details! *Older, Wiser, Loving, Saints are 55+ years young!
In Our Adult Bible Class Next Sunday ~ we will continue with our study of God and His Commandments. YOU are ALWAYS welcome to learn and grow with us!
The Mission and Ministry Council Meeting ~ has been postponed until Tuesday, September 27, at 7 p.m.
The Wealth God Gives ~ is not only astounding, it is also the center and focus of our Gospel for next Sunday's divine worship (Luke 16:19-31). Join us at 8:15 or 11 a.m. to be enriched in your life as God's child and as you handle His gifts of love.
The Family of Nancy Kraft ~ thanks the members of First Lutheran Church and Pastor and Shari Miller for prayers, expressions of care and concern and support, get well and sympathy cards, meals, flower arrangements, plants, visits with Nancy, and participation in the funeral service for Nancy where we thanked and praised God for Nancy and the gift of his Son Jesus our crucified and risen Lord and Savior. God Bless you all as you exercise and share you faith. Dave K.
Our Get Set and Pre-K ~ classes are running at full speed. We would love for you to join us as a volunteer in our classes, donate snacks for our after-care kids and pray for a productive school year. We love our congregation and thank you for all of the support that you provide to us.
First Lutheran Youth (FLY) ~ for senior high schoolers will be meeting every Wednesday from 3:27-5:15. We will have a devotion, fun, service activities and planning of special events. FLY, for middle and high schoolers, will be meeting once monthly for a special event (TBD) starting September 25, immediately following late service.
The Sunday School Year ~ has begun! If you would like to be an alternate teacher, share a class with another teacher, or have one all to yourself, please prayerfully consider becoming a Sunday School teacher. Materials and curriculum are provided, and you can teach your preferred age group. Contact Darcy Goodson 406-581-5768 or Tara Mercer 406-438-3402 if you can help out or have any questions.
Many Thanks to Roger and Loretta Schultz ~ who prepared the Midweek meal this past Wednesday, and to all who helped serve and cleanup!
If YOU are Willing and Able to Help ~ with an upcoming Midweek Supper, please sign up in the kitchen.
Lutheran Hour Ministries ~ shares the love of Jesus around the world through mass media and holistic outreach in over 60 countries each week. On Saturday, September 24, Lutheran Hour Ministries is hosting an online event, Bringing Christ to the Nations™: An LHM Global Overview, to give you a glimpse into their global Gospel outreach and ways you can be involved. Register today at lhm.org/LLL2022. For further questions or more information, contact Pastor Miller. Online registration is open through September 22, 2022.
The LWML Divide Zone Fall Rally ~ is scheduled for October 1, 2022 at St. John Lutheran in Deer Lodge. There will be a bible study and devotion based on Word of the day and they will be collecting non-perishable food items for the Deer Lodge Food Pantry. The day will start at 10:00 a.m. and will conclude at 2:30 p.m., registration is $5. More information is available on the bulletin board in Ziegler Hall.
Portals of Prayer ~ for October-December are here! You can pick up your copy in the entryway or at the Church Office during the week.
The September 2022 Lutheran Witness ~ is now available for all members. You can pick up your copy in the entryway or at the Church Office during the week.
On The Lutheran Hour Next Sunday ~ "Take This Personally" – Speaker: Rev. Dr. Michael Zeigler. Jesus wants us to take His Word seriously, not as a personal attack but as a word of warning-and promise (Luke 16:19-31). The Lutheran Hour may be heard Sundays on Christian Satellite Network, 91.1 FM, at 8 a.m., and on Sirius XM 131, Family Talk.
A Life Quote from Lutherans for Life ~ "To be authentic is to be vulnerable with others-and that may make us fearful. It might be messy, and that makes us uncomfortable. It takes time. Our reminder as we [the Church] seek to become a place of belonging is 1 Corinthians 12:18: 'But as it is, God arranged the members in the body, each one of them, as he chose.'" Mona Fuerstenau- A Life Quote from Lutherans For Life o lutheransforlife.org.
Please Pray For ~
+ Those Needing God's Help and Healing ~
+ People Around Our Nation and Across the Globe ~ for God's protection, deliverance, and care in these days, weeks, and months of crisis and danger!
+ The Fire, Fervor, Passion, Enthusiasm, Commitment and Dedication ~ God can and will give us to be caring and compassionate toward those around us, as we live as His people.
And Praise God for ~
+ Granting Us the Opportunity ~ with the tithes and offerings and gifts our members and friends offer for the mission and ministries we carry out together, to bless others in Jesus' Name!
+ Laying on Our Hearts ~ a deep concern for lives in danger in our nation and around the world through each moment of each day.
+ Making Us Wise Servants of Him and Each Other ~ when we were wicked mis-managers of His gifts in our sins!
Our Thanks to God ~ and to those who respond to God's great love, in service to our Lord and to us this Sunday, September 18