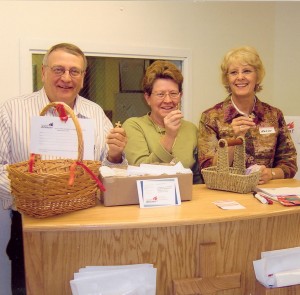 Download the May 2022 First Word
Download the April 2022 First Word
Download the March 2022 First Word
Our Congregation's Mission ~ is sharing God's Word with everyone, everywhere!
In Adult Bible Class Today ~ "Anointed by a Sinner, Forgiven by the Savior?" Please join us at 9:30 a.m. this morning in the Fellowship Centre for our Adult Bible Class to discover just who this uninvited guest could be.
The Church Office will be CLOSED ~ Monday the 30th to allow our staff members to observe Memorial Day. If you need pastoral care, please feel free to call Pastor Miller at home (227-5207).
A Midweek Pot-Blessing Supper ~ will be served Wednesday (June 1), beginning at 5:30 p.m. in the Fellowship Centre. Chicken will be provided; please bring side dishes to share.
Get a Midweek Lift ~ Join us on Wednesday, June 1, at 6:30 p.m. for an ample serving of God's Word and the forgiveness, life, and salvation He gives through the Sacrament of Holy Communion!
The First Edition Book Club ~ will meet Saturday, June 4, at the home of Linda Fromm. Please RSVP to Linda by Wednesday, June 1 at (406) 459-3584.
Celebrate the Sending of the Holy Spirit on Pentecost ~ next Sunday, June 5, in our morning divine services, beginning at 8:15 and 11 a.m. You'll be blessed by the Holy Spirit through Word and Sacrament and rejoice in the faith and life gifts the Spirit gives to make and keep us believers and to equip us each for service in God's Kingdom.
Wearing Your Best Bright Red is Cool ~ for celebrating Pentecost next Sunday! You'll be in good company if you do!
An Amazing Banquet ~ is what we discover in our next Bible Study (next Sunday beginning at 9:30 a.m. with coffee and fellowship in the Fellowship Centre). Imagine such a fine meal, where those who deserve the best seats, give them up for those who are not worthy? Please join us to see just what God is up to in this!
Afternoon Actions, Activities, and Adventures for Adolescents This Summer? ~ Watch for more information, coming soon!
Many Thanks to Our Midweek Supper Chefs ~ Sue and Paul Taylor and the Hollatz family who prepared the yummy food, and to everyone who helped setup, and serve, and cleanup after the meal this Wednesday (May 25)!
If YOU are Willing to Help ~ with an upcoming Midweek Supper, please sign up on the June sheet in the kitchen.
Welcome Others to Our Worship in Our Savior's Name! ~ Prayerfully consider acting as a greeter on Sunday mornings for the 8:15 or 11 a.m. service. It's a wonderful way to welcome visitors and members alike. If you would like to become part of the greeter program at First Lutheran, please speak with Nancy Jenkins or call her at (406) 465-7110. You'll be blessed to be a blessing to others!
First Lutheran School ~ is looking for a preschool teacher for the 22-23 school year. This teacher will work with the Get Set class and will be teaching 3-4 year olds. If you are interested, please contact Sue Taylor at (406) 461-0272 for an application and more information.
Volunteers for Yardwork and Groundskeeping ~ for spring, summer and fall are needed for 2022. We did get a new mower last year, and if you have not used the new mower, you will need to be trained before using. The mower will only be operated by those trained to use it safely AND that successfully demonstrate their skill. This is a requirement of the Board of Trustees and the insurance carrier. Operators must be eighteen or older. Returning volunteers and new volunteers are asked to sign-up on the sign-up sheet on the board by the Sacristy. Please be sure to include your phone number and indicate if you have used the new mower. Contact Paul Taylor at (406) 461-1645 if you have any questions.
School Photos ~ There are more school photos to be mounted on the large displays for the hallways, near the classrooms. If you are interested in assisting with mounting these photos, please contact Sue Taylor. Your assistance is greatly appreciated.
On The Lutheran Hour Next Sunday ~ "A Place in the Choir" – Speaker: Rev. Dr. Michael Zeigler. God's world is like a big, beautiful choir in which everyone has a place and a part to sing. (Colossians 1:15-20) The Lutheran Hour may be heard Sundays on Christian Satellite Network, 91.1 FM, at 8 a.m., and on Sirius XM 131, Family Talk.
A Life Quote from Lutherans for Life ~ "The Lord God loves your neighbors-even the ones that annoy you. He cares so much for them that He sent His Son to die and rise again for them-for all of them. For the thief, the bigot, the liberal, the conservative, the one with the manicured lawn who judges your overgrown lawn, and the one who has let their property become overgrown and run down. He cares for all of them. He cares so much that He called you and He placed you in that neighborhood to seek its welfare." Rev. Dr. Jason Broge, guest speaker on The Lutheran Hour – A Life Quote from Lutherans For Life o lutheransforlife.org.
Please Pray For ~
+ Those Needing God's Help and Healing ~ members and friends of our congregation and school dealing with struggles of body and soul!
+ People Whose Life and Freedom are Threatened ~ in our nation and across the globe, for God's protection, deliverance, and care in these days, weeks, and months of crisis!
+ Those Who are Grieving ~ the loss of loved ones and so much more following the shootings this past week and beyond, for the peace, comfort, and hope that God can give by His mercy, love, and grace in Christ.
+ Every One of Us ~ that we may celebrate Christ's Ascension to His throne in Heaven, allowing Him to rule our lives according to His Word and will!
And Praise God For ~
+ Granting Us the Opportunity ~ with the tithes and offerings and gifts our members and friends offer for the mission and ministries we carry out together, to bless others in Jesus' Name!
+ Laying On Our Hearts ~ deep concern for lives in danger in our nation and around the world, and His promises to be with us through each moment of each day of life with His mercy, His grace, His protection, His comfort, and His peace.
+ Any and All Those We Remember this Weekend ~ for His gifts to us through them, guarding our lives, bringing and keeping us in the faith, and blessing us!
+ Making Us Each Members of His Kingdom ~ and ruling us and everything around us for our good and to His glory!
Our Thanks to God ~ and to those who respond to God's great love, in service to our Lord and to us this Sunday, May 29