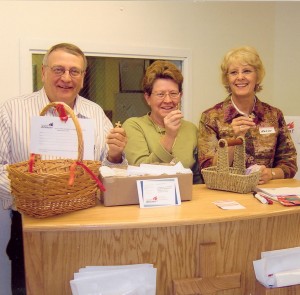 Download the December 2018 First Word
Download the October 2018 First Word
Download the June 2018 First Word
Guests – a special welcome to you! If you are looking for a church home we encourage you to consider First Lutheran! We love to share the Good News of our Savior and the help that God's Word gives for our everyday lives! We would love to tell you more about our congregation. Please join us again!
"The Invocation: Beginning in God's Name" – is the title for today's lesson in our Bible Study "Oh Come, Let us Worship Him" beginning at 9:45 a.m. in the Fellowship Centre! Each week, we consider God's Word in our worship. Please join us as we open God's Word in His holy Name! Our next study will be "Receiving God's Forgiveness: Confession and Absolution."
Today in Sunday School – the children study "The Birth of John." Zechariah spoke God's Word announcing that this baby, John, would give people knowledge of salvation in the forgiveness of sins. God speaks through His holy Word to give us knowledge of salvation and forgiveness through Jesus, His Son. In your family discuss: "How does Jesus remind us of the work He has done for us?"
Celebrate the Sanctity of Human Life – with us next Sunday, at 8:15 or 11 a.m.! "From Age to Age," God's attitude and His Word about the precious gift of life to His people has not changed! Please join us as we rejoice in His love and care for each one of His people.
Women of the Word (WOW) – Bible Study will resume Tuesday, January 15 at 7 p.m. at First Lutheran Church. Join us!
First Word Deadline – is Wednesday, January 16 at 5:00 p.m. Please submit your articles by placing them in the First Word mailbox in the church office, or by emailing them to lindafromm@mac.com.
Our January *O.W.L.S. Gathering – will begin at 11 a.m. on Thursday, January 17! God's indescribable working and love will be on display as we grow in faith and enjoy the Christian fellowship of *Older (than 55) Wiser, Loving, Seniors. See your email or a handout for more details about the event.
A New Pastor's Discovery Class – will begin on Thursday, January 24, meeting from 6:30 to 8:30 p.m. each week! Participants will study the basics of God's Word. Some will prepare to become active members of our congregation. Some are seeking answers about the Bible and about life. If you or someone you know would benefit from the truths in God's Word just waiting to be discovered, please let Pastor Miller know.
We So Appreciate – your Christmas gifts and cards and greetings and your ever, ongoing support for us! Your wonderful gifts point our hearts to the immeasurable Christmas Gift of God's love in Jesus! Rich blessings for you and yours in 2019 a.d. ~ Pas+or and Shari Miller ~
First Lutheran School – is seeking a long term sub for the afternoon after school care position. The sub will be needed from 3:30-5:30, Monday through Friday, starting the first of March until the end of the school year. The pay scale starts at $10.00/hour but is dependent upon experience. If you are interested in filling this position or know someone who is, please contact Stacy Smith in the school office. Thanks!
Early Registration – for the 2019-2020 school year is quickly approaching. Registration packets for current school and church families will be available on February 1st. Registration for the general public opens February 8th.
Thank You – to Terry Wareham, Louisa LaForge, Bridget Michel, Donna Pare, Vi Erdman and others for preparing, serving and cleaning up after our midweek supper. We appreciate you!
Our Heartfelt Thanks – to our sanctuary cleaning volunteers, Chuck & Kim Ballard, for your gracious service to us all! Steve & Melinda Longsworth are scheduled to serve this week. Thanks for your willingness to help!
The Food Share Item – for January is soup. Please place your food donations in the receptacle under the mailboxes in Ziegler Hall.
On the Lutheran Hour Today – "Reason to Believe" with speaker Rev. Dr. Michael Zeigler. Do you have a reason to believe that everyone should believe what you believe? John did. Come and see. (John 1:19-51) Tune in next Sunday: "My Delight is in Her." The Lutheran Hour may be heard Sundays on Christian Satellite Network, 91.1 FM at 8 a.m.
Life Thoughts in the Church Year – from Lutherans for Life. With this One, His Son veiled in frail human flesh, the heart of Almighty God is well-pleased (Luke 3:22). Through the same Jesus Christ, He creates, redeems, and calls (Isaiah 43:1-2) every member of our race to be His own beloved child. Since He stands in our place, even our sicknesses and sorrows do not represent punishments but rather opportunities for Him to shower blessing.