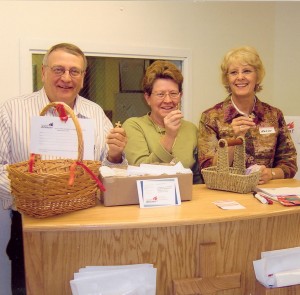 Download the May 2023 First Word
Download the April 2023 First Word
Download the March 2023 First Word
Our Congregation's Mission ~ is sharing God's Word with everyone, everywhere!
We Continue Our Study of the Book of Proverbs ~ today, beginning at about 9:30 a.m. in the Fellowship Centre! Bring your Bible and your readiness to study and to be blessed.
A Midweek Supper ~ will be served on Wednesday, May 10, beginning at 5:30 p.m. Please join us for good food and Christian fellowship.
In Our Midweek Worship ~ beginning at 6:30 p.m. on Wednesday, May 10, we will hear God's Word for our lives and get a lift for the balance of the week. Please join us!
Calendar Note ~ The First Edition Book Club will meet at Terry Wareham's home this Saturday, May 13, at 12:15 p.m.
Because Jesus Lives and Loves ~ we can be part of a living, loving family as the Gospel for next Sunday (John 14:1-14) reminds us. Please join us for our Divine Worship on Mother's Day, beginning at 8:15 and 11 a.m. Because Christ is risen indeed, we too can live and love one another in our family!
First Lutheran School ~ Please pray for our school as we finish up the school year, saying goodbye to some of our students, planning summer camps, and enrolling students for next year. Thank you for your continued support and prayers.
Thanks to ~ Hanna Hollatz who set up the Midweek Pot-Blessing meal last Wednesday, and to everyone who helped serve and cleanup!
If You Can Help ~ with an upcoming Midweek Supper and / or desserts for a meal, the sign-up sheets are in the kitchen.
Mowing ~ The summer 2023 mowing sign-up is available in Ziegler Hall. Please check the schedule and sign up to help keep our lawns looking beautiful throughout the summer months.
The Food Share Item ~ needed for the month of May is canned soup. We donated 53 lbs. of food in April. Please place any donations in the box under the mailboxes in Ziegler Hall. Your generosity is greatly appreciated. Thank you!
On The Lutheran Hour Next Sunday ~ "Reason to Hope" by Lutheran Hour Speaker Rev. Dr. Michael Zeigler. A brand-new violin needs to mature through time and use. The same goes for followers of Christ. (1 Peter 3:15) The Lutheran Hour may be heard Sundays on Christian Satellite Network, 91.1 FM, at 8 a.m., and on Sirius XM 131, Family Talk.
Lutherans for Life Quote ~ "We were created by a loving God, redeemed by His self-sacrificial act of love, and called to love one another. God loves us; therefore, our life has value. God calls us to love; therefore, our life has purpose. And this, dear friend, is the greatest purpose." Hannah Nissing, Bulldogs4Life, the Y4Life team at Concordia, Nebraska – A Life Quote from Lutherans For Life o lutheransforlife.org.
Please Pray For ~
+ Those Needing God's Help and Healing ~
+ God's Protection, Deliverance, and Merciful Care ~ for people around our nation and across the globe in these days, weeks, and months of crisis and danger as well as in our times of hope and celebration in Christ our Savior!
+ Each of Us, Believers in Our Risen and Living Lord ~ for His hope, that reaches beyond the grave.
And Praise God For ~
+ The Tithes and Offerings and Gifts ~ He grants us, our fellow-members, and friends for the mission and ministries we carry out together, to bless others in Jesus' Name!
+ Laying on Our Hearts ~ a deep concern for lives in danger in our nation and around the world through each moment of each day.
+ The Hope He Gives Us ~ for life and for a future, by faith in Jesus, our now-risen and ever-living Lord!