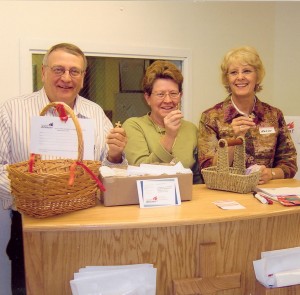 Download the December 2022 First Word
Download the November 2022 First Word
Download the October 2022 First Word
Our Congregation's Mission ~ is sharing God's Word with everyone, everywhere!
"Blessed for Life" ~ is our theme for our Life Sunday celebration this week. This is a time to reflect on how God's gift of life is so precious. This month's issue of The Lutheran Witness encourages us to speak up for life always. What a gift of grace this is to us! We are given tools to carry out this task in His Word.
Our Life Banners, Lutherans for Life Flag, Baby Quilts, and Rose ~ displayed today remind us in a visible way to not forget the care God's children of all ages need and receive. Enabled by our Savior, we can give this care to each other. Today we pray for God's hand on us all, in every age and stage, throughout 2023 and always!
The Proverbs of Solomon ~ are our focus today in our Adult Bible Class as we study chapter 11 (and more?). Please join us and be challenged again by these words for our lives!
A Midweek Supper ~ will be served on Wednesday, January 25, beginning at 5:30 p.m. Please join us for good food and Christian fellowship (and you won't have to do the dishes).
In Our Midweek Worship Service ~ this Wednesday, (beginning at 6:30 p.m.), we'll hear God's forgiving and life-giving Word as we worship with our brothers and sisters in Christ! Please join in and be blessed!
"Your Blest Life Now" ~ is what God promises in our Holy Gospel for next Sunday's worship (Matthew 5:1-12). Better than any "prosperity preacher" of our day, God keeps His promises. Join us for worship at 8:15 a.m. or 11 a.m. and hear again the truth of God's Word for our daily life!
In Appreciation ~ for all of your help, gifts, contributions, and support with projects for Human Care in our church and community, please join us for coffee and refreshments following early service on Sunday, January 29. Thank you to everyone for your generous giving of time, talents, and treasures! The Board of Human Care
Six Month Secret Sister ~ Join fellow "Sisters in Christ" by encouraging one specific person, chosen randomly for you, to pray for, send notes to, celebrate life, or just say "Hi … I'm thinking of you." Open to all daughters in Christ who are young or young-at-heart – and willing to commit to having a Secret Sister. Interested? Complete the survey sheet available in the back of the church and return to Susan Buhr by Monday, February 6. Questions? Call Susan at 406-449-9961 or email yellow_moose@msn.com.
First Lutheran School ~ Registration for the 2023-24 School Year is open for First Lutheran School. First Lutheran Church members and current school families are welcome to enroll with a spot guaranteed. Open enrollment is now available to the community.
Summer Camps ~ First Lutheran School will be offering summer camps for the weeks of June 19-August 25 again this year. The camp is open for children between the ages of 5-8. Registration is now open to members of the congregation and the community. Please contact Sue Taylor with any questions.
Thank You ~ to Susan Buhr and helpers for planning, purchasing, serving, and cleaning up our Midweek Supper on Wednesday, January 18. If you can help with an upcoming Midweek Supper and / or desserts for a meal, the sign-up sheet is waiting for you in the kitchen!
Valentine Card Packs ~ will be available this Sunday in Ziegler Hall for $5 (8 cards). Send some "Love" to friends and family and support our Youth here at the church. Fall/Christmas cards sales raised $230 for the F.L.Y. group this past year. A small basket of assorted single general assortment cards will be provided at 50¢ each. Please donate used holiday cards (or extras) and envelopes if you have some. Cards will be sold through February 5. Thank you! Janice Larison
Food Share Items ~ needed for the month of January are pasta and pasta products. Place any donations in the box under the mailboxes in Ziegler Hall. Thank you for your continued generosity.
On The Lutheran Hour Next Sunday ~ "Hopelessly Hopeful" by Lutheran Hour Speaker Rev. Dr. Michael Zeigler. Having hope for humanity is not the same thing as hoping in humanity. (Colossians 1:27) The Lutheran Hour may be heard Sundays on Christian Satellite Network, 91.1 FM, at 8 a.m., and on Sirius XM 131, Family Talk.
Options Pregnancy Care Clinic ~ begins their baby bottle "Change for Life" campaign today. Pick up your bottle and then have fun filling it with cash, checks, or change. Our partnership with the Clinic helps further their mission of "offering hope and building families." The free services offered include ultrasound imaging, testing, education and parenting classes, clothing and supplies, as well as low-cost STD testing and treatment. Please return your filled bottle to the church by February 15. Filling in your name and address will give them an opportunity to thank you and provide a tax deductible receipt. Please see Ruth Stelter for more details.
Please Pray For ~
+ Those Needing God's Help and Healing ~
+ God's Protection, Deliverance, and Merciful Care ~ for people around our nation and across the globe in these days, weeks, and months of crisis and danger as well as in our times of hope and celebration in Christ our Savior!
+ Lives in Danger ~ at every age, stage, and place in our nation and around the world, that God will keep them from fear, harm, danger, and even death that we may each live out His precious gift of human life according to His gracious will.
And Praise God For ~
+ The Tithes and Offerings and Gifts ~ He grants us, our fellow-members, and friends for the mission and ministries we carry out together, to bless others in Jesus' Name!
+ Laying on Our Hearts ~ a deep concern for lives in danger in our nation and around the world through each moment of each day.
+ Lutherans for Life ~ and other pro-life groups and individuals who help us to stand up and speak out for lives in danger by abortion, euthanasia, and other sins against life, and who support every person's God-given right to live out the life with which He blesses us and every person!
+ His Precious Gift of Human Life ~ and the opportunity to live it fully by His grace in Jesus Christ and the life of faith we live, by the power and working of the Holy Spirit through God's Word and Sacrament!
Our Thanks to God ~ and to those who respond to God's great love, in service to our Lord and to us this Sunday