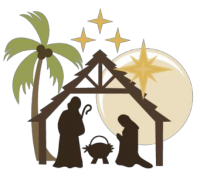 The Lord answered her, "Martha, Martha,
you are anxious and troubled about many things, but one thing is necessary.
Mary has chosen the good portion, which will not be taken away from her". ~ Luke 10:41-42
Do you remember the song that begins, "All I want for Christmas is. . . ."?
If you're of age, I don't have to go any further. You've already finished the line. You can't help yourself. If you are younger and can't figure out how the line ends, don't feel bad, it's a cute song, but that's about it.
What do people want for Christmas? Dallas-based Neiman Marcus is hoping they have found the right answer. The store is selling a cupcake-shaped electric car for kids. Then, there's the charity dinner with some best-selling authors. (That one is selling for $200,000.) There is also a Neiman Marcus Jaguar priced a little over $100,000, and the store is offering the world's fastest electric motorcycle.
What do you want for Christmas? How about a gift that is free? With all the buying and hoopla, it is right we remember God's gift to us is His Son. Jesus came into this world to be our Savior, our Redeemer, our Substitute, and our Friend. Now Jesus is just what we all need!
Our hope is that you and yours want more of Jesus this Christmas! He is the One Gift that is also necessary for us: for our forgiveness, our life and our salvation and He is freely available for us in the Good News about Christmas in God's Word!
Rich Christmas blessings in Jesus, our Christmas-born Savior, to you and to yours,

---
Thank you
for your prayers and your concern, during the past week and weeks before.
In case you have not heard, in mid-September, I was diagnosed with PVCs (Premature Ventricular Contractions). Following several EKGs, 24 hours with a "Holter Monitor," a cardiac stress-test, echo EKG, and, (Tuesday, November 20) a cardiac catheterization, my cardiologist informed Shari and me that I had a 100% blockage of the right coronary artery and a 75% blockage on the left. After installing 4 stents and hours of recovery in the hospital, Shari took me home. The next evening, by God's grace, we celebrated our Thanksgiving Eve services at church, then travelled to Billings to give thanks (for innumerable blessings – including healing and life) with Shari's mother. I am doing remarkably well and thank you and every member of our dear congregation for your prayers and support. God, and His servants (doctors, nurses, helpers, pray-ers and you), are all truly amazing! Thanks again and may our awesome God also richly bless you!