Sunday School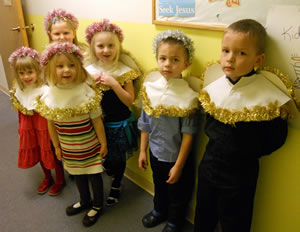 Our Sunday School classes meet every Sunday morning from 9:45-10:45am. Classes are divided between Preschool – Ages 3 & 4; Grades K-2; Grades 3-4, and Grades 5-6. We have a fantastic team of Sunday school teachers to help your child know, love and follow Jesus. New children are ALWAYS welcome.
We plan service projects throughout the year that are fun and engaging for the whole family as an integral part of Sunday School.
Other Children's Ministry Opportunities
Trunk or Treat
Halloween night-Meet at First Lutheran for games, food, and a car lot full of candy filled trunks!  This is a free event, and is open to the community. This event will run from 6-7:30pm.
Children's Christmas Service
Each December children of all ages get the opportunity to be an active part of worship as they share the news of our Savior's birth through costumes, songs, and Scripture. This is a great way for kids to learn the true meaning of Christmas, and to celebrate the real reason for the season.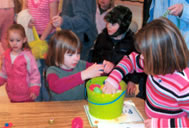 Children's Easter Egg Hunt
Join us the Saturday before Easter as we rejoice in Christ's resurrection! This is a time where kids and their families can celebrate through crafts, an egg hunt, and other activities. This event runs from 9-10:30am.
Vacation Bible School
Every June we open our doors to the community for VBS! This one week ministry engages children with Bible stories, games, crafts, snacks, and many other activities as they learn about the life and love of Jesus. VBS is open to all children age 4 to entering 6th grade.