Newsletter & Announcements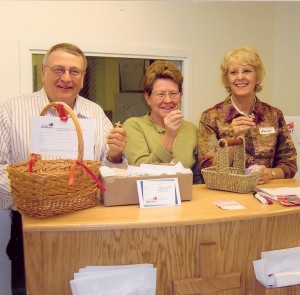 Guests . . . a special welcome to you! If you are looking for a church home we encourage you to consider First Lutheran! We love to share the Good News of our Savior and the help that God's Word gives for our everyday lives! We would love to tell you more about our congregation. Please join us
Why the Bible? . . . Every religion has its holy writings: Jews have the Torah; Muslims the Qur'an; Buddhists the Tripitaka, and Hindus the Rigveda. The Christian church has long held the Holy Bible to be its holy writing. But is the Bible really God's Word? Please join us for our Adult Bible Study today (at about 9:30 a.m.) in the Fellowship Centre. Please join us as GodConnects with us!
Today … is Mite Box Sunday. Please place your mites in the large LWML box. Thanks for supporting missions!
Lenten Devotion Booklets . . . provided by Lutheran Hour Ministries and First Lutheran Church are now available. Please be sure to pick up your copy today!
Ash Wednesday . . . is this Wednesday (believe it or not!?). Join us for our Noon Service (beginning @ 12:10 p.m.), for our Midweek Break Supper (@ 5:30 p.m.) and worship (@ 6:30 p.m.)! Holy Communion will be celebrated, the Imposition of Ashes observed, and we'll begin our "Living Lent" Lenten and Holy Week worship series at both worship services!
Join Us Next Sunday … at 8:15 and 11:00 a.m. as we hear how Jesus was tempted and overcame the devil. We continue our Lenten journey to the cross.
God's Top Ten (Commandments) . . . the Law and the Gospel will be our focus in Pastor's Class / Adult Bible Study, during our Sunday Christian Education Hour (from 9:30 to 10:45 a.m.) next Sunday. You can prepare for membership in the Lutheran Church and our congregation or simply review the Bible basics. You'll be blessed!
Valentine's Event … Dinner and a movie! Friday, February 12, we will meet at FLC at 6 p.m. for pizza, salad, and dessert, then watch the new Christian movie called "The War Room." This is a movie about the power of prayer. The movie will start at 6:45 and there will be a short Bible study/discussion following. There is a signup sheet in the Fellowship Centre for those who plan to attend. Please bring $5 per person to cover the cost of the pizza and salad, and bring a dessert to share. If you have questions, talk to Jim or Stacey Weber. Feel free to look up more information about the movie at warroomthemovie.com. Childcare provided. Signups need to be complete by February 10.
*O.W.L.S. (55+ers) Save-the-Date . . . February 18 … for our Love Month activity (TBA)! (*OWLS = Older, Wiser, Lutheran, Seniors)
Monthly Movie Event … On Saturday, February 20 at 11 a.m., we will enjoy a potluck luncheon and viewing of the movie, "Casablanca." All are welcome-please plan to join us!
"Praise and Powder!" … The youth and their families are invited to join together for early service worship Sunday, February 21, before loading up and heading to Great Divide Ski Area for some fun in the sun and snow. If you are interested in going-and for pricing information-please contact Pastor Toombs (Jason.toombs@gmail.com) for more information.
Our Sunday School … is in immediate need of a teacher for the first and second grade classes, as well as a Sunday School Superintendent. If you are interested in serving in either of these positions, please speak with Wanda Person or call the church office, 442-5367.
Preparations Are Underway … for our annual "Easter Extravaganza for Everyone!" On Saturday, March 26 beginning at 9 a.m. we will host this event for families, including an Easter Egg Hunt, Christ-centered crafts, the sharing of the Resurrection story and more! We are in need of volunteers to help make this event exciting for all! Please speak with Pastor Toombs if you can help!
40 Days for Life, … a peaceful pro-life effort, will kick off in Helena February 9, at 6 p.m. at the Emmanuel Chapel (1000 N. Ewing St.) The vigil location is outside of the Planned Parenthood center at 1500 Cannon St. from 7 a.m. – 7 p.m. every day. To learn more, go to 40daysforlife.com/Helena.
"Change" for Children … we are partnering with Intermountain to provide funding so hurting children can hear the Gospel proclaimed for them. Please pick up one of the change containers in the Welcome Area and return it by Ash Wednesday, February 10. Yes, Lent is quickly approaching!
Are You Interested in Stephen Ministry? … First Lutheran and Life Covenant are starting a new class for those interested in training to be Stephen Ministers, as well as a review of the Stephen Ministry materials for those who are already Stephen Ministers. An initial meeting will be held the middle of February to determine best times. Please contact Joyce Nachtsheim, 443-0581 or 459-9002, if you would be interested in this opportunity.
Our Thanks … to Jeannie Hubbard and Rachel Blair for organizing, setting up and cleaning up after our midweek supper, and to all who brought dishes to share!
Dorcas Circle Quilters … wish to thank Thrivent Financial for the Action Team Grant of $250 which was spent on no-sew fleece blanket kits and flannel for baby quilts. The ladies completed the blankets on January 30, and Deputy Sheriff Jason Schmidt stopped by to pick them up. These quilts are distributed by law enforcement agents to children in distress. The project is on-going, along with the making of the full-sized quilts for Lutheran World Relief, and full- and youth-sized quilts distributed locally. Truly a blessing that reaches many!
Contribution Statements … for 2015 are now available in your mailbox in Ziegler Hall.
The Food Share Items … for February are boxed dinners. Please place your food donations in the receptacle under the mailboxes in Ziegler Hall. Thank you for supporting this local ministry!
On the Lutheran Hour Today … "It's Best to be with Jesus," with Lutheran Hour Speaker Rev. Dr. Gregory Seltz. Life is not a do-it-yourself project. To live life to its fullest, we need Jesus. (Luke 9:28-36) Tune in next Sunday: "Call on Him." The Lutheran Hour may be heard Sundays on Christian Satellite Network, 91.1-FM at 8 a.m.