Newsletter & Announcements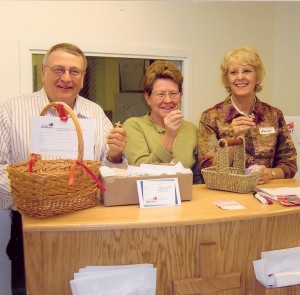 Monthly Newsletter
Guests . . . a special welcome to you! If you are looking for a church home we encourage you to consider First Lutheran! We love to share the Good News of our Savior and the help that God's Word gives for our everyday lives! We would love to tell you more about our congregation. Please join us again!
Angelology . . . is our current study of the mysteries and miracles of angels, beginning at about 9:30 a.m. this morning in the Fellowship Centre! Please join us for this study of these wondrous creatures of God! Today's Studies: "The Angel of the Lord" and "Guarding and Avenging Angels"!
Celebrate! . . . with Chuck and Naida Kesner and their family today as Chuck and Naida mark their 60th wedding anniversary! Cake and coffee will be served in the Fellowship Centre between services. Please come and extend your best wishes to them on this milestone.
A Midweek Break . . . can be just the lift we need to help us make it to the weekend! Please join us this Wednesday with supper beginning at 5:30, followed by worship beginning at 6:30 p.m. and get your "lift"!
"God Will Take Care of Us!". . . Jesus tells us and shows us in next Sunday's worship (beginning at 8:15 and 11:00 a.m.)!!! Please join us for this Good News from God!
VBS Snacks . . . As Gangway to Galilee, our 2014 Vacation Bible School, fast approaches, we are busy making plans and preparations! If you are looking for a way to help, please see the talkback in today's bulletin for a list of food items we'll need for snacks. Simply mark the item(s) you would like to donate and return the form to the office or place in Kate Johnson's mailbox in Ziegler Hall. Monetary donations may also be made to help us purchase needed treats. Thank you!
Gangway to Galilee . . . our Vacation Bible School being held on August 4-8 is fast approaching! Please pray that many children will attend and learn about their Savior Jesus. We are planning great activities, fun crafts, yummy snacks and an all-around Amazing Grace Adventure! Share the information with your friends and neighbors-registration forms are available in the church office or online.
FLC Women's Event: "G.P.S. … God's Planning System," will be held Saturday, August 16 from 8:30 a.m. to 12 noon. ALL women are invited. See the newsletter and sign up at the Welcome Center or in the church office if you are going to attend.
We Are Still Collecting School Supplies . . . and YOU can help! Purchase items on the list on the box in Ziegler Hall and put school supplies in the box between now and August 15. Monetary donations are also accepted (please mail checks to Angel Fund, PO Box 7436, Helena, MT 59604). Thanks for helping area children receive the supplies they need to be prepared for school!
In Just Over a Month . . . Rev. Jason Tombs will become our new Associate Pastor. Are you ready? Please plan to join us for his Installation Service at First Lutheran on Sunday, September 7, beginning at 4:30 p.m. Please plan to join us for this great day of celebration for Pastor Toombs and his new wife Samantha.
The Associate Pastor Fund is Growing! . . . If you would like to help meet the many startup costs for this new ministry, please contact a member of the Mission and Ministry Council, Pastor Miller, or simply give a gift in an envelope marked "Associate Pastor."
Take Your Family Out to the Ball Game . . . (with picnic dinner included!) Thrivent Financial Chapter 30515 will sponsor a Helena Brewers' Baseball Night Out on Monday, August 25 in the 1st base picnic area at Kindrick Legion Field. The game and dinner are free to the first 120 Thrivent members to drop by the Thrivent office (3130 Saddle Drive) to pick up their ticket and wrist band, which will allow admission to the ballpark and to the picnic area. The Thrivent office is open Monday through Thursday, 8 a.m.-noon, and 1 p.m. to 5 p.m. You may call Autumn Keller (442-6091) for additional information. On game night, gates will open at 6 p.m., dinner will be served from 6:30-8 p.m., and the first pitch will be thrown at 7:05 p.m. Please plan on an evening of good food, fellowship and fun!
Our Thanks . . . to the Board of Stewardship and Missions and Bruce & Joyce Nachtsheim for preparing, serving and cleaning up after our Wednesday night supper!
The Food Share Items . . . for August are rice and pasta. The Food Share receptacle is now located in the library/music room. Thank you for continuing to support this local ministry.
On the Lutheran Hour Today . . . "Hope Worth Waiting For," with Lutheran Hour Speaker Rev. Gregory Seltz. In Christ, we wait in hope and confidence that our struggles have purpose for our life now and in the world to come. (Romans 8:18-27) Tune in Next Sunday: "Nothing." Radio Stations: KAWZ 90.9 FM Sunday at 8:00 a.m. and KCAP 1340 AM Sunday at 9:00 a.m. This program is sponsored weekly by Tempest Technologies.
"Life Thoughts in the Church Year" . . . from Lutherans for Life. The assisted-suicide movement preys upon our fear of suffering. This is a genuine fear. But faith gives us a perspective on suffering the world cannot understand. God works in suffering for our eternal good (Romans 8:28). How do we know this when we often do not see the good? God subjected His Son to the greatest of all suffering for the sins of the world so that we might have the greatest of all good-forgiveness and eternal life (32). He will not forsake those for whom He paid such a price. Prayer: Heavenly Father, help me trust that You are at work for good in my suffering. Amen.