Newsletter & Announcements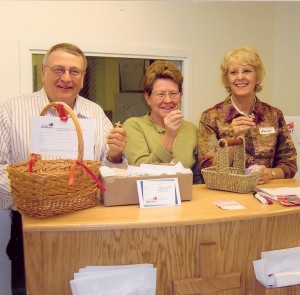 Download the June 2017 First Word
Guests – a special welcome to you! If you are looking for a church home we encourage you to consider First Lutheran! We love to share the Good News of our Savior and the help that God's Word gives for our everyday lives! We would love to tell you more about our congregation. Please join us again!
In Bible Study Today Judges, Kings, Priests, Prophets – we'll consider these Old Testament royals – and how God worked through them (and sometimes around them) to carry out His will and promises. Please join us in the Fellowship Centre, beginning at about 9:30 a.m.
In Sunday School Today – students investigate "The Case of the Worn Broom: Jesus with Mary and Martha." The one necessary thing for happiness now and always is the Word of God. You could discuss, "What kinds of things distract you from God's Word? How are you blessed by God's Word?"
A Mighty Fortress VBS – begins tomorrow morning at 9 a.m.! There's still time to register your child OR volunteer to help with VBS! You may register online at vbsmate.com/FirstLutheranHelena, or pick up a registration form in the church office. Of course, we will be registering onsite tomorrow too ~ There's a place for everyone! Hope to see you there!
Join Us for Our Midweek Break Supper and Worship – this Wednesday, at 5:30 p.m. for good food and 6:30 p.m. for spiritual blessings.
Jesus Invites – us into the boat in our worship next Sunday at 8:15 and 11 a.m.! Join us as we consider the Gospel good news about Jesus and the other Scripture lessons and as God blesses us through His Word and Sacrament.
Thrivent Members – if you remember to direct your choice funds ASAP, your benefiting group (perhaps First Lutheran Church and School) can receive an additional amount of funds ($50). It's a great way to stretch your dollars for the good of others.
First Edition Book Club – will kick off their new season Saturday, August 5th at 4:30 p.m. with a potluck supper hosted by Joyce Nachtsheim at her home. Guests (husbands included!) are asked to bring a side dish, salad or dessert to share-meat and beverages will be provided. Please RSVP, 442-0581 by August 1st.
First Lutheran Church Women's Event – will be held Saturday, August 19 from 8:30 – Noon. The theme is "Steppin' Out in Faith – Living the Life God Designed." All women are encouraged to join us for fellowship, Bible Study, gifts, snacks and a viewing of "The First Rosa." Please bring your Bible and a donation to cover expenses. RSVP 442-5367 by August 16 to sign up! If you would like to bring a snack to share, please contact Bridget Michel-thank you!
First Lutheran School – is looking for a part-time after school care worker for the coming school year. The hours are Monday through Friday, 3-5:30 p.m., when school is in session. This provider is responsible for providing a safe environment for school aged children, without direct supervision. Applicants must have a high school diploma or GED. Some experience working with young children is preferred. Please submit a completed application form and background check form to the school office.
Another Position Available – is a part-time preschool teacher. Hours are Monday through Friday, 8 a.m. – 12 p.m. The teacher is responsible for planning and implementing developmentally appropriate activities for each class that are consistent with First Lutheran School's statement of philosophy as found in the School Handbook. Applicants must have a bachelor's degree or higher in Elementary Education and/or Early Education. Please submit a typed resume outlining teaching and/or teaching experiences and a copy of Montana Teaching License to the school office.
Dorcas Quilters – still have fabric available to make backpacks for Project Promise School Kits. If you would like to purchase school supplies (they're on sale now!) please see the list of needed items on the bulletin board in Ziegler Hall. Questions?? Speak with Bridget Michel-thank you!
LWML Mission Grants – Please see the purple letter on the bulletin board for information about how to submit an LWML Mission Grant Proposal for consideration by the LWML Montana District.
Our Prayer List – includes many of our friends and family for whom we pray regularly. If you have a loved one listed whose circumstances have improved, we rejoice with you! Please let us know in the office and we will remove them from the list. We plan to update these prayer requests very soon and would like to have an accurate list. Thank you!
The Food Share Item – for August is cereal-both hot and cold! Please place your food donations in the receptacle under the mailboxes in Ziegler Hall.
Thank you!
Our Heartfelt Thanks – to our Sanctuary Cleaners, John & Connie Onstad & Ken & Emily DeKam, for your gracious service to us all! John & Laurie Stelter are scheduled for service this week! Thanks in advance for all you will do!
And to Our Lawn Care Volunteer(s) – Steve Johnson, thank you for keeping our property looking beautiful! Next week's lawn care specialist will be Kim Hoxie. We appreciate you!
Thank You – to Philip & Lisa Tullis for preparing, serving and cleaning up after our midweek supper!
On the Lutheran Hour Today – "Confidence to Face Whatever Comes Our Way" with Lutheran Hour Speaker Rev. Dr. Gregory Seltz. No matter what life throws our way, God promises that His eternal purposes can never be thwarted. (Romans 8:28-39) Tune in next Sunday: "On Thee the High and Lowly." The Lutheran Hour may be heard Sundays on Christian Satellite Network, 91.1 FM at 8 a.m.
Life Thoughts from Lutherans for Life – God proclaims every human person His treasure (Deuteronomy 7:6, Matthew 13:44), whatever contrary appearances they may be hidden under. He loves them and you enough to bind Himself inseparably (Romans 8:38-39) to you and your circumstances. He will give heaven and move earth itself to bring you into His joyful kingdom. Prayer: O Lord, our God, give us patience until You graciously give us all goodness even through hardship. Amen.
Stewardship Corner – We make financial decisions daily. We decide whether to spend our money, give it, lend it, save it, or invest it, and we need to be diligent in the handling of our money. God expects us to be wise in the management of the money that He entrusts to us (Matthew 25:14-30). Because money is part of life, it's important to come to know what our Lord teaches us about it in His Word. While money itself is neutral, we can make it either a positive or negative part of our lives. When God has first place in our lives rather than our love for money, a big obstacle to an intimate relationship with God is eliminated.