Newsletter & Announcements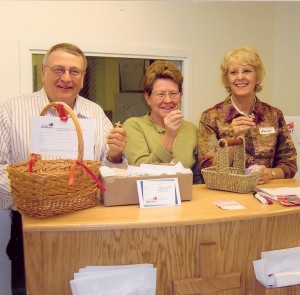 Monthly Newsletter
Guests … a special welcome to you! If you are looking for a church home we encourage you to consider First Lutheran! We love to share the Good News of our Savior and the help that God's Word gives for our everyday lives! We would love to tell you more about our congregation. Please join us again!
Flowers Today … are placed by Brian and Susan Buhr in celebration of their 9th wedding anniversary. Congratulations!
A King on a Couch … is where we find good old Nebuchadnezzar in Daniel 2 in our Bible Study in the Fellowship Centre today. Please join us to study this interesting and challenging Old Testament book. We begin with coffee (and goodies) at about 9:30 a.m. each Sunday.
Autumn Appetizers Potluck … Join us today at 12:30 p.m. for this event! Bring your favorite appetizer to share and visit with your First Lutheran friends.
Please Note … The church office will be closed from 12:00-1:00 p.m. Monday-Friday for lunch. Should you reach our voicemail, please leave a message and we'll return your call promptly! Thank you!
Plan to Spend … lunch, supper and/or a take-out meal or two at MacKenzie River Pizza Company on Tuesday, September 22nd. It's one of First Lutheran School's tastiest fundraisers! Get your voucher from Mrs. Toombs, School Director. Thank you for your support!
40 Days for Life … will begin Tuesday, September 22nd at 6:00 p.m. We will meet at Nazarene Church, 117 Valley Dr. across from Capital High. We will walk from the church to Planned Parenthood.
Take a Midweek Break … with your First Lutheran friends each Wednesday! We'll enjoy fellowship and supper (beginning at 5:30 p.m.) and worship our gracious God together (beginning at 6:30 p.m.)
Attention all O.W.L.S (Older Wiser Lutheran Seniors) … (folks who are 55+ish) . . . because of scheduling challenges, our trip to The Great Falls has been postponed several weeks into October. Watch for further details to come!
First Word Deadline … is Wednesday, September 23rd at 5:00 p.m. Please submit your articles to Editor Linda Fromm by placing them in the First Word mailbox in the church office, or emailing them to fozziehoot1917@bresnan.net.
Our Next O.W.L.S. Event … will be this Thursday, September 24, from 11 a.m. to 1 p.m. Tom Kerr, financial advisor with Edward Jones, will be speaking to our finances and available with answers with our questions and we will have the opportunities for pix and rides in a motorcycle sidecar. Watch for details in your email box.
Losing Favor or Losing Flavor? … is a question our Holy Gospel for next Sunday asks of each of us. Please join us at 8:15 or 11 a.m. to hear Christ's answer for this dilemma. While you're at it, why not invite a guest to church (and to lunch)? It could be life-changing for you both!
First Edition Book Club … will meet at the home of Pam Tudor at 12:15 p.m. on Saturday, October 3 for lunch and discussion. Club members are reading "The Camel Bookmobile" by Marsha Hamilton. There are 5 copies of the book circulating-Bridget Michel has a list. Please RSVP to Pam, 227-6731.
First Lutheran School's October Luau … is coming up (October 23rd, 5:30 p.m.) and we'd be so grateful for your donation of items/services for the Silent Auction! Need some ideas or have a question? Please contact Mrs. Samantha Toombs, School Director, 442-6913. Also note – "like" First Lutheran School-Helena on Facebook and be eligible for a drawing to win 2 free tickets to the luau!
First Lutheran School … has a wonderful employment opportunity! We are looking for a Before/After School Provider for the students of First Lutheran School in Helena. The position is approximately 18 hours a week. We are looking for an energetic and creative person who enjoys working with children! This position is great for people who want to gain experience in the field of education! This position also looks great on resumes for those seeking educational positions. For more information, please contact First Lutheran School at 442-6913.
Make New Discoveries in God's Word … as you prepare for membership, review the basics, grow in your faith, and fellowship with other believers in our new Pastor's Discovery Class which we are preparing, to begin soon. Please contact Pastor Miller or Susan in the church office (442-5367) for more information and / or to enroll.
Nominations for Offices … on the LWML Montana District Board are being sought. The letter and call for nominations are posted on the bulletin board in Ziegler Hall. Contact Janice Witt or Shari Miller if interested.
Tree of Life Foundation … Annual Banquet will be held Thursday, October 1st at 6 p.m. at the Brondel Center of Helena Cathedral, 520 N. Ewing St. Chili O'Brien's is hosting the main course with board members providing desserts. The featured speaker will be Tim Fox, Montana's Attorney General. There is no charge, just a free will offering to support this billboard ministry. Children are especially welcome. Watch for more details on the bulletin board in Ziegler Hall. RSVP to Ruth Stelter, 443-6380.
The Mission & Ministry Council … has called a special voters' meeting on Sunday, October 4th, immediately following the 8:15 a.m. worship service. Voters will be asked to officially approve the addition of sixth grade for First Lutheran School. Please plan to attend this very important meeting!
Planning Ahead? … This year's Christmas pageant and dinner for our mentally and physically challenged members will be held Thursday, December 17th. As always, we will "un-decorate" the Christmas tree and provide gifts for them. The gift suggestions this year are knitted hats, scarves and gloves/mittens. You may choose to make them yourself, should you be so talented, or purchase them. Please add these folks to your Christmas gift-giving list! Thank you!
Grief Share … We are planning to hold a Grief Share Bible Study this fall. If you or someone you know is interested in being a part of this non-denominational, healing and renewing class, please contact Laura @ 461-2266, Carla @ 458-0384, or call the church office, 442-5367.
CASA Opportunity … Training for Court Appointed Special Advocates (CASA), ages 21-65, starts in October! If you're interested in volunteering to advocate for an abused/neglected child's best interest, please call 457-0797 to set up an interview. If you are not interested in becoming a CASA Advocate, we have numerous opportunities for you to assist us in helping these children.
Thanks to Those … who have given gifts and committed to provide a flat-screen monitor to help us improve our worship services (and other presentations) in the Sanctuary. You have answered our need and our prayer!
Our Thanks … to Emy and Bryan Stueve, Jeannie Hubbard and Olga Newmeyer for preparing, serving and cleaning up after our midweek supper. We appreciate your willingness to serve!
The Food Share Items … for September are canned soups. Please place your food donations in the receptacle in the library. Thank you for supporting this local ministry!
On the Lutheran Hour Today … "Tradition, Tradition, Tradition," with Lutheran Hour Speaker Rev. Gregory Seltz. The Lutheran Hour may be heard Sundays on Christian Satellite Network, 91.1-FM at 8 a.m.