Newsletter & Announcements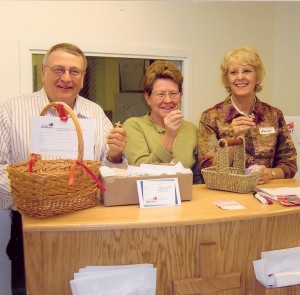 Monthly Newsletter
Guests . . . a special welcome to you! If you are looking for a church home we encourage you to consider First Lutheran! We love to share the Good News of our Savior and the help that God's Word gives for our everyday lives! We would love to tell you more about our congregation. Please join us again!
The Old Testament Book of Job . . . and God's "gift" of suffering resumes today at 9:30 a.m. in the Fellowship Centre. Please bring your Bible and join us!
Ladies' Annual Spring Tea . . . is today at 12:30 p.m. Ladies of all ages are invited to enjoy tea and delicacies … please come!
Topical Bible Study . . . Beginning on April 8 from 7:15-8 p.m. Pastor Toombs is planning to offer a Wednesday Evening Bible Study. The focus will be more topical in nature and deal with articles in newspapers, magazines and the like, and how we, as Christians, can give a Biblical response to the issues raised. For more information, or to submit articles, please speak with Pastor Toombs.
An Alleluia Celebration . . . will be held this Wednesday, beginning at 6:30 p.m. as we worship our risen and ever-living Lord around Word and Sacrament! Please join us, and, while you're at it, why not come early (beginning at 5:30 p.m.) for supper?
Bodily Resurrection . . . If Jesus only rose spiritually; we would still be in our sins. But thanks be to God that He rose in His body and He has made this known to His beloved disciples. Come next Sunday to hear how Jesus casts fear and doubt aside when He comes to His beloved brothers and sisters.
Quilt Sewing Classes . . . will meet on alternate Wednesdays beginning April 15 at 9 a.m. People who wish to learn quilting techniques are welcome to join us. It is a beginning level for people just learning to sew, or more complex for veteran quilters/sewers. If you have questions, please contact Wanda Person, 439-7687.
Baskets of Promise News . . . Thank you all for being so generous in joining the Sunday School with this mission project. You can still make donations for the project through April 18. We will meet on the 18th to assemble the kits. If you have questions, please contact Wanda Person, 439-7687.
The Annual Board of Human Care Garage Sale . . . is only 6 days away on Saturday, April 18, from 8 a.m. – 1 p.m. Your donated "treasures" can be brought to church on Thursday and Friday. Sorry, we cannot accept tires or bulky older televisions.
Garage Sale Workers . . . get hot, dirty and hungry as we work all day long. We'd appreciate it if you could help curb our hunger with a casserole or a hearty salad for lunch. This way we don't have to "eat" into our profits to buy lunch for 3 days. If you can help out with 1 or more lunch food contributions or Thursday, Friday or Saturday, please call Donna Pare, 202-2932, or Nancy Bowe, 449-4042. Thanks!
Fathers in the Field Update . . . Rob Goff, Regional Missionary for Fathers in the Field, will be traveling from Vancouver, Washington to meet with members of First Lutheran Church on Sunday, April 19 after late service to share with our congregation more details about this new ministry at FLC. Men and women of all ages are invited to attend. Men, if you think you might be interested in mentoring a fatherless boy by sharing the love of Christ through hunting, fishing, camping, etc. please come and find out more. Ladies, behind every fatherless boy is a mother who needs to be loved on by Christian women. If you think you would be interested in helping in any way with this ministry, please come and learn more. Lunch will be provided. If you have any questions, contact Jim Weber at 459-3104.
Attention "Seasoned Senior Adults". . . Save Thursday, April 23 from 11 a.m. to ??? for an activity, devotion, potluck and program. Questions? Please see "senior" Pastor Miller.
You Are Cordially Invited . . . to the LWML Divide Zone Spring Rally at First Lutheran Church Saturday, April 25. Registration begins at 8:30 a.m. Ingathering is for Options Women's Clinic and the Little Children's Home.
Looking Ahead . . . Our Cinco de Mayo (observed) potluck luncheon, featuring Pastor Toombs' famous carnitas, will be held Sunday, May 3 at 12:30 p.m. Please plan to bring your favorite side, bread or dessert and join us!
Our Thanks . . . to everyone who brought dishes to share for our Wednesday night potluck supper, and to Rachel Blair and Jeannie Hubbard for coordinating it!
The Food Share Items . . . for April are rice and pasta. Please place your food donations in the receptacle in the library.
On the Lutheran Hour Today . . . "God Always Shows Up," with Lutheran Hour Speaker Rev. Gregory Seltz. Jesus shows up in your life today with His gifts of forgiveness and new life (John 20:19-38). Tune in Next Sunday: "It's Not Over 'til Jesus Says It's Over." The Lutheran Hour may be heard Sundays on Christian Satellite Network, 90.9-FM at 8 a.m. or on KCAP 950-AM. at 9 a.m. This program is sponsored weekly by Tempest Technologies.