Newsletter & Announcements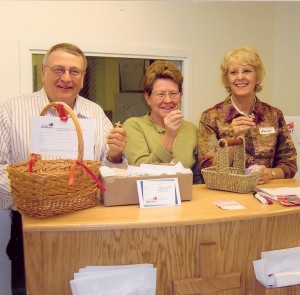 Monthly Newsletter
Guests . . . a special welcome to you! If you are looking for a church home we encourage you to consider First Lutheran! We love to share the Good News of our Savior and the help that God's Word gives for our everyday lives! We would love to tell you more about our congregation. Please join us again!
Our Hymnal: . . . Lutheran Service Book (LSB) contains hundreds of resources for your spiritual life. Please join us today for Adult Bible Study (beginning at 9:30 a.m. in the Sanctuary). We'll take a look at the LSB and how it can richly benefit our life as God's people!
The Old Testament Book of Job . . . and God's "gift" of suffering will be our new Sunday morning Bible Study, beginning next Sunday at 9:30 a.m. in the Fellowship Centre. Please bring your Bible and join us!
Baskets of Promise . . . This Lent we're joining Lutheran World Relief's Baskets of Promise campaign. We'll collect items that we'll use to assemble Personal Care Kits for people in all parts of the world who may be experiencing challenging situations. Please see more information and the collection box located in Ziegler Hall. Thanks for participating in this mission project!
Tuesday Noon Women's Bible Study . . . will meet March 3 in one of the classrooms downstairs. Check in the church office for exact room number!
The Parable of the Hidden Treasure and the Priceless Pearl . . . is our "Parable for Lent" for this Wednesday's midweek services beginning at 12:10 and 6:30 p.m. Please join us in continuing our journey through Lent with your fellow believers in Christ!
New Member Classes . . . will continue this Thursday. If you have questions or would like to enroll, please contact us in the church office (442-5367) or email firstlutheranchurch@bresnan.net.
First Edition Book Club . . . will meet Saturday, March 7 at 12:15 p.m. at the home of Joyce Nachtsheim. Please join us for luncheon and discussion. RSVP your hostess: 442-0581.
"Destroy This Temple . . ." Jesus is speaking of His body but the Jews misunderstand. We do well to heed the call of Christ but there's a lot of misunderstanding with Jesus. So we come to hear as His Word is proclaimed.
Daylight Saving Time Begins . . . NEXT Sunday, March 8! Remember to set your clocks ahead one hour Saturday night.
First Lutheran School News . . . Miss McIntosh's class-AKA "The Big Room"-made pancakes recently in science class. No, it wasn't the science of cooking! The students each chose an element from the Periodic Table and used M & M's in the pancake batter to model the position of protons, neutrons and electrons in an atom of their element. Talk about learning by doing!
A Job is Available . . . at First Lutheran Church and School! Please see Head Trustee Gary Obermueller or contact Susan in the Church Office (442-5367) for a job description, application, and information about salary and benefits for a part-time Custodian position for our congregation and school. This opening will be made public soon but for now is open only to church members.
First Lutheran School . . . registration for 2015-2016 is now open to the public. Share the news about our school with your friends and neighbors and encourage them to check us out. Denise Underwood has forms and lots more information (442-6913). Registration is also ongoing for members of FLC and currently enrolled families.
VBS Planning . . . is underway! Please prayerfully consider in what capacity YOU would be able to participate. We will need teachers, assistants, craft leaders, snack helpers-there are lots of opportunities to serve. We are tentatively planning for mid-August, but can adjust dates to accommodate schedules. Please speak with Pastor Toombs or Wanda Person if YOU are interested in being a part of this important ministry to our children!
Calling All Seniors! . . . You have been touched by the luck o' the Irish and you are invited to a St. Patrick's Day luncheon in your honor on Sunday, March 15 at 12:45 p.m. after second service. The youth will be serving up good food and a pot o' gold (fun) for all! Please RSVP by March 9 – notify Susan in the church office to let her know if you'd like to attend. We look forward to having YOU there!
Our Thanks to . . . Rachel Blair, Jeannie Hubbard, Donna Pare, Tammy Anderson and others for preparing, serving and cleaning up after our Wednesday night supper!
A New Recipe Collection . . . has been started to help volunteers plan, shop for and cook for larger groups of people, i.e. our midweek suppers! You'll find easy, few-ingredient recipes for groups of 50-100 diners. Recipes are available for casseroles, soups, salads and desserts. If you have favorite recipes that will feed a crowd, we'd love to include them in our collection! The reference binder is located in the church office. We hope it will make volunteering to prepare dinners easier for everyone. Check it out!
The Food Share Items . . . for March are tomato products: sauce, stewed, diced, etc. Please place your food donations in the receptacle in the library. Thank you!
On the Lutheran Hour Today . . . "The True Author of Your Life Story," with Lutheran Hour Speaker Rev. Gregory Seltz. When Christ's story becomes yours by faith, life changes. (2 Corinthians 7:10) Tune in Next Sunday: "Lifted Up." The Lutheran Hour may be heard Sundays on Christian Satellite Network, 90.9-FM at 8 a.m. or on KCAP 950-AM. at 9 a.m. This program is sponsored weekly by Tempest Technologies.
"Life Thoughts" . . . From Lutherans for Life. To make it clear perhaps should read, Peter heard Jesus speak of suffering and death but he seemed to have missed the resurrection part. (Mark 8:31-32). The way of salvation would be the way of the cross AND an empty tomb. When we take up our cross and follow Him, we follow in the victory He has already won over death, and we follow toward the victory of our own resurrection. That makes cross bearing purposeful and hopeful.