Newsletter & Announcements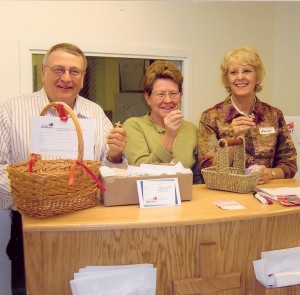 Monthly Newsletter
Guests . . . a special welcome to you! If you are looking for a church home we encourage you to consider First Lutheran! We love to share the Good News of our Savior and the help that God's Word gives for our everyday lives! We would love to tell you more about our congregation. Please join us again!
Are You Wearing Your Tag? … Please help our new guests and members get to know the nicest people around by wearing your name tag each Sunday. (New tags are available in your mail slot). Please let us know in the church office if you don't find a tag or if yours needs to be corrected. The rumor is that there will be prizes for some who are wearing their tag!!!
Today is Pastor Appreciation Sunday! . . . Please join us in the Fellowship Centre after early service this morning for treats to celebrate, and be sure to offer your thanks to both of our pastors (and birthday best wishes to Pastor Miller) for the blessing they are to First Lutheran Church and School!
"The Li'ler Books of the New Testament" . . . will be our new Adult Bible Study, beginning TODAY at 9:30 a.m. in the Fellowship Centre. Please join us as we begin this new study examining the big truths of God shown forth in these "li'ler books."
Give You a Break? . . . We're pleased to do so, every Wednesday with supper beginning at 5:30 and worship at 6:30 p.m.! Holy Communion will be celebrated during this Wednesday's worship.
"Don't Mess with the IRS" . . . could be the theme for our Gospel for next Sunday (Matthew 22:15-22). Please join us at 8:15 or 11 a.m. next Sunday for worship as we hear about and experience God's grace. You'll be blessed.
Confirmation Students and Families . . . our overnight Retreat will begin on October 15! We'll meet at church for class at 3:30 p.m. and then, after dinner, drive to the Nachtsheim Ranch. We will have breakfast there, and activities on Thursday morning after a REST-FULL night, then return to the church and complete our Retreat at noon! For more information please call 442-5367.
Please Note . . . HIS Kids! will not meet on Wednesday, October 15. They will resume practice on Wednesday, October 22. Thank you.
Last Chance! . . . If you were unable to have your portrait taken by Life Touch, please submit your photos for the church directory to Bridget Michel by Wednesday, October 15, 2014. A vertical picture is preferred. Email photos to bmichel@q.com, or put a print (labeled) in my box. Call 449-2079 if you have questions.
A New Pastor's Discovery Class is Forming! . . . If you or someone you know would benefit from Bible study, learning more about Lutheranism and fellowshipping with other Christians, please contact one of our pastors or call Susan in the church office (442.5367) and we'll be in touch.
A Great Meal and Opportunity Await . . . On Friday, October 24 at 6 p.m., First Lutheran School will hold its annual Luau and Silent Auction. Tickets are on sale in the school office and between services on Sunday. Adults are $10, children ages 3-12 are $5, and 2 years old and under are free. The Silent Auction offers a wide variety of gift items, services, merchandise from local businesses and lovingly crafted items. Your support enables our school to offer a quality Christian education and you'll have a great evening! Thank you!
Trunk or Treat . . . Join us Friday, October 31 from 5:30-7:00 p.m. This is also Reformation Day, so if you don't have a costume in mind, dress as your favorite Reformer or Biblical character, and some of them were quite the character! We are also in need of volunteers to help supervise the games and activities. If you don't feel like being responsible, decorate your trunk, tailgate, or covered wagon and help us hand out candy!
The Kindergarten Class . . . at First Lutheran invites you to come and read a book with them on school day afternoons. You are welcome to come once a week, once a month, and even just for one time. Please contact Miss Heidi Westerbuhr, kindergarten teacher, to sign up. Reading time is about 2:30 p.m. Reading opens doors to history, learning of all kinds, entertainment, communication and almost every occupation. Come and share with us. Call the school office:442-6913. Thanks!
LWML State Board Meetings . . . will be held at First Lutheran Church October 17 and 18. We are in need of housing for 16 ladies and one pastor who will attend the meetings. If you can help, please contact Marjorie O'Rourke at 422-2609. Thank you!
God's Love Servant Event . . . is scheduled Sunday, October 19. There is a sign-up sheet on the bulletin board in Ziegler Hall if you would like to donate food items for the dinner. If you'd like to help serve that day, meet us at God's Love at 2:30 p.m. Thank you!
HELP! . . . First Lutheran's Chancel Choir is in need of a piano player to accompany them. If you are interested, please speak with Gary Walker ~ thank you!
Thank You to Everyone . . . who participated in Options Women's Clinic annual baby bottle campaign! If you have not yet returned your Options baby bottle, please do so. You may leave them in the church office.
Please Continue to Vote . . . online for Trinity Lutheran School in Billings to help them be awarded a $100,000 grant from Farmers' Insurance! You can vote daily at www.thankamillionteachers.com from now until November 30. Thanks for supporting our sister school and Lutheran education!
Our Thanks . . . to Lisa Olson, Jeannie Hubbard and others for preparing, serving and cleaning up after our Wednesday night supper!
The Food Share Items . . . for October are canned fruits and vegetables. The Food Share receptacle is now located in the library/music room. Thank you for supporting this local ministry.
On the Lutheran Hour Today . . . "Today's the Day for God's Grace for All," with Lutheran Hour Speaker Rev. Gregory Seltz. The ruins of ancient Pompeii show how life can change in an instant. (Revelation 7:9-12) Tune in Next Sunday: "God's Peacemakers for a Troubled World." Radio Stations: KCAP 1340 AM Sunday at 9:00 a.m. This program is sponsored weekly by Tempest Technologies.