Newsletter & Announcements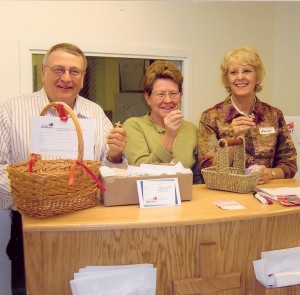 Monthly Newsletter
Guests . . . a special welcome to you! If you are looking for a church home we encourage you to consider First Lutheran! We love to share the Good News of our Savior and the help that God's Word gives for our everyday lives! We would love to tell you more about our congregation. Please join us again!
Are You Wearing Your Tag? . . . Please help our new guests and members get to know the nicest people around by wearing your name tag each Sunday. (New tags are available in your mail slot). Please let us know in the church office if you don't find a tag or if yours needs to be corrected. The rumor is that there will be prizes for some who are wearing their tag!
Angelology . . . is our current study of the mysteries and miracles of angels, beginning at about 9:30 a.m. this morning in the Fellowship Centre! Please join us for this study of these wondrous creatures of God! Today's study: "Angels and Jesus"! Thanks to John Underwood for leading our study today!
"Oh, Give Me a Break!" . . . Have those words ever been your plea? Well, we have an answer to your prayer! Please join us this Wednesday with supper beginning at 5:30, followed by worship beginning at 6:30 p.m. and get your "Midweek Break"!
Celebrate Work? . . . Yep! Our worship services next Sunday at 8:15 and 11 a.m. will focus on God's gift of labor. Please join us as God speaks His Word to our hearts and lives!
First Lutheran School . . . starts for K-6th grade Wednesday, August 27! (The younger students start after Labor Day.) The teachers are back, scheduling home visits, making final preparations in their rooms and looking forward to the big day. Please keep the school, the staff, the students and the enrollment process in your prayers.
Confirmation Classes . . . for students in the 6th through 8th grades and Midweek Pre-confirmation classes (for elementary school students) will begin on Wednesday, September 10! Watch for information about our Student and Parents Orientation (September 3) and Confirmation Retreat (TBA) coming to a mailbox near you soon! If you have students interested in these classes, please pre-register by contacting us at 406.442.5367.
Please Pick Up Your Invitation . . . to Rev. Toombs' Installation, beginning at 4:30 p.m. on Sunday afternoon, September 7 at First Lutheran and RSVP as soon as possible if you will be attending the meal following the service. It will be a great day of welcoming Pastor Toombs and Samantha and celebrating God's grace to our congregation!
You May Make Your Reservation . . . for the Installation Dinner on the sign-up sheet on the Welcome Center in the entry. We are planning a very special dinner to celebrate this exciting day, and ask that everyone who plans to attend reserve their spot no later than August 31 to aid in our preparations. Thank you!
HIS Kids! . . . will resume Wednesday, September 10 with practice starting promptly at 5:15 p.m. If you are in the 1st to 8th grade, you are invited to join us! Sign-up sheets are available in the entry.
Thursday Night Men's Bible Study . . . at Jim Weber's home will resume on September 11 at 7:00 p.m. We will be starting off the year by going through Max Lucado's book "GRACE." It is a great book that will take you deep into the study of God's Amazing Grace and is sure to strengthen your faith in our Lord and Savior Jesus Christ. We will meet September 11 and 18, then will be going on an every other week schedule. Jim needs to order books ahead of time for all who plan on attending, so please let him know if you want to partake. This study is open to adult men of all ages and we would love to have some new people join the group. Contact Jim before September 8 at 459-3194 or jweber@helena.k12.mt.us .
WOW . . . Women of the Word Bible Study resumes Thursday, September 18 at 7 p.m. Our new study is "Golden Fruit: Living the Fruit of the Spirit Through the Best Times of Your Life." Join us at First Lutheran Church to study, discuss, fellowship and pray around God's Word.
Only 37 Days . . . until we start photo sessions for the church directory portraits! Make an appointment through the church website, firstlutheranhelena.org and you will receive an email link for a money-saving portrait coupon. Starting September 3, people will be in the fellowship hall on Wednesdays and Sundays to schedule your appointments. Opportunities abound! To help with scheduling photo appointments, making reminder calls to families, or greeting families October 1-4, call Bridget Michel, 449-2079.
LWML Fall Retreat . . . Please note that the registration flier for the Fall LWML Retreat at Camp Utmost provided in the recent Missive contains some incorrect information. A revised flier is available in the entry on the Welcome Center.
Take Your Family Out to the Ball Game . . . (with picnic dinner included!) Thrivent Financial Chapter 30515 will sponsor a Helena Brewers' Baseball Night Out on Monday, August 25 in the 1st base picnic area at Kindrick Legion Field. You may call Autumn Keller (442-6091) for additional information.
You Are Invited . . . to a special 25th anniversary banquet on Thursday, September 11. The Tree of Life Foundation is sponsoring an "Around the World Banquet for Christ" with an ethnic theme, and a silent auction. The organization proclaims Christ's message in our community through signs and billboards. There is no charge for the meal; a free-will offering will be taken. Mike Kecskes, past president of Tree of Life will be the featured speaker. Join us at the Brondel Center of St. Helena Cathedral at 6:30 p.m. Please call Ruth Stelter, 443-6380 for reservations or information.
Our Thanks . . . to the folks at "Table One" and friends for preparing, serving and cleaning up after our Wednesday night supper!
The Food Share Items . . . for August are rice and pasta. The Food Share receptacle is now located in the library/music room.
On the Lutheran Hour Today . . . "The Answer to Life," with Lutheran Hour Speaker Rev. Gregory Seltz. Many regard Jesus as an urban legend, a cultural myth, or just another teacher. Jesus won't let you have this opinion of Him. (Matthew 16:13-20) Tune in Next Sunday: "God's Plan." Radio Stations: KAWZ 90.9 FM Sunday at 8:00 a.m. and KCAP 1340 AM Sunday at 9:00 a.m. This program is sponsored weekly by Tempest Technologies.