Newsletter & Announcements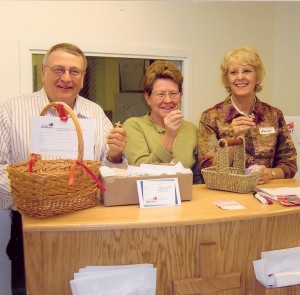 Monthly Newsletter
Guests . . . a special welcome to you! If you are looking for a church home we encourage you to consider First Lutheran! We love to share the Good News of our Savior and the help that God's Word gives for our everyday lives! We would love to tell you more about our congregation. Please join us again!
What's Easter About??? . . . Please join us for Adult Bible Study next Sunday in the Fellowship Centre, beginning at about 9:30 a.m. with coffee and fellowship as we consider God's Word for His Easter people! Angelology (studying angels) will be our next study, beginning April 27!
Easter Lilies . . . Please see the insert in today's bulletin if you would like to provide an Easter lily in honor or in memory of a loved one!
Please Join Us . . . for cake in the Fellowship Centre between services today. Ed and Pat Hartman are celebrating 50 years of marriage! Enjoy treats with them, and extend your best wishes on this milestone. God's blessings, Ed and Pat!
Take a Break … from our Midweek Break Supper and Worship this Wednesday! Then we'll see you again for a midweek lift on Wednesday, April 23 as we celebrate the Resurrection of Jesus once again!
Annual Subscriptions for Lutheran Witness . . . are now due. If you would like to renew your subscription, or become a new subscriber, please contact the church office (442-5367). Annual subscriptions (11 magazines) are $15.60; checks may be made payable to First Lutheran Church.
Our Holy Week Services . . . will include Maundy Thursday worship with Holy Communion beginning at 12:10 and 7:30 p.m. on April 17; Good Friday services at 12:10 p.m. and the Tenebrae Service of Shadows at 7:30 p.m. on April 18; our SonRise Easter Celebration beginning at 6:30 a.m. and our Resurrection Festival services beginning at 8:15 and 11 a.m. on Easter Sonday, April 20! Please mark your calendar, invite your family and friends, and join us!
Attention All Children . . . (and parents of children): The Annual Easter Egg Hunt will be Saturday morning, April 19! Guests are invited!
Volunteers Needed . . . to help with the Easter Egg Hunt! We need donations of small, wrapped candy to put in the eggs and people to help stuff them. We also need volunteers to hide the eggs on Saturday morning, April 19th, and folks to lead the various activity groups. Please speak with Tammy Anderson if you can help—thank you!!
Easter Breakfast??? . . . the word is that it is on, beginning immediately after the Easter SonRise ends! Please support our Youth and enjoy a yummy Easter special!
Thanks to All the Hungry People . . . who ate at Panda Express and helped us earn money for First Lutheran School. We really appreciate your support; we'll have the results in a few weeks.
Can You Help? . . . Our After-School Care Provider is in need of 12-15 clean egg cartons, 1 dozen-size, for an Easter craft. If you can donate some, please drop them off in the school office. Thank you!
Our New Associate Pastor Ministry . . . is in process even now. Please keep this process in your prayers, and, if God moves, give a special offering to help make this expansion for our church and ministry happen. If you would like to give to this fund or would like more information, please contact a member of the Mission and Ministry Council, Pastor Miller, or Susan McCormack, or simply give a gift in an envelope marked "Associate Pastor."
Snow is Gone … Garage Sale is On! . . . Start gathering your treasures for the annual Board of Human Care Garage Sale. You may bring them to the church Thursday and Friday, April 24 and 25; the sale is Saturday, April 26. Thanks to everyone for supporting this event and enabling us to help others in need!
LWML Montana District Convention . . . will be held May 2-4, 2014 at Trinity Lutheran Church in Miles City, Montana. Information and registration forms are available today at the Welcome Center. Early registration rates have been extended to April 8! There is additional detailed information posted on the bulletin board in Ziegler Hall.
Mercy Kits . . . LWML women will be assembling personal care kits to donate at the District Convention. Please see the purple information sheet on the bulletin board, and if you would like to contribute items, bring them to church by April 25 so we can put them together on the 26th. Thank you!
They are Coming! . . . Please plan to be with us on Saturday, May 17, and Sunday, May 18, for a treat! The Chamber Choir from Concordia University Nebraska will be coming to Helena. This small and excellent choral group will be with us for a concert on Saturday night and worship on Sunday morning! You'll be blessed!
The Food Share Item . . . for April is canned soup. The Food Share receptacle is now located in the library/music room. Thank you for continuing to support this local ministry!
Our Thanks . . . to the Buhr family for preparing, serving and cleaning up after our Wednesday night dinner!
Need Help? . . . Two of our youth members, Hunter and Grayson Weber, are looking for odd jobs for the next couple of months to earn some extra money. If you need work done, please call Hunter, 459-1808. Thanks!
On the Lutheran Hour Today . . . "A Hero? No, a Savior!" Speaker Rev. Gregory Seltz. More than a hero, Jesus is the only Savior of sinners. (Philippians 2:5-11) Tune in Next Sunday: "Get Your Head into the Clouds." Radio Stations: KAWZ 90.9 FM Sunday at 8:00 a.m. and KCAP 1340 AM Sunday at 9:00 a.m. This program is sponsored weekly by Tempest Technologies.
God's Love Servant Event . . . Sunday, April 27 at 2:30 p.m. Please sign up to help on the sheet in Ziegler Hall!