Newsletter & Announcements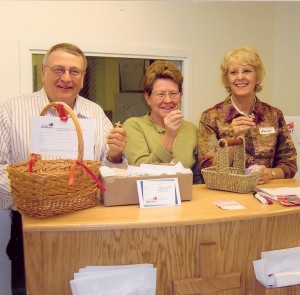 Monthly Newsletter
Guests … a special welcome to you! If you are looking for a church home we encourage you to consider First Lutheran! We love to share the Good News of our Savior and the help that God's Word gives for our everyday lives! We would love to tell you more about our congregation. Please join us again!
The Great Deceiver… is more than the title of our Adult Bible Study, it is also a description of the Christian's adversary, fit to be called the "god of this world." The "power of darkness" is a force to be reckoned with, and so is he. In The Great Deceiver, our video-enhanced study, we explore a being so diabolical he will stop at nothing to separate us from God. Join us at 9:30 a.m. in the Fellowship Centre for this challenging Bible Study about the devil AND about our Savior!
Service Project . . . The Lutheran Women's Missionary League (LWML) has decided to launch a service project to benefit the women of the YWCA as well as families in need in Lewis and Clark County. We will be collecting hygiene donations from Monday, July 20 through Saturday, August 22. We will also be asking children and families that are participating in VBS to donate because this is one of the service projects for our VBS program. If able to participate, please stop by the display and pick up a list of requested items. Please consider donating to this worthy cause that benefits the people of Helena and Lewis and Clark County.
Our July O.W.L.S Luncheon . . . (for Older, Wiser, Lutheran Seniors) is this Tuesday, July 28 at 11 a.m.! Please bring a salad, side dish, or dessert to share. The main dish and beverages will be provided. Also bring your favorite owl picture (to be used for our logo) and ideas for mission/service projects. We'll also look at and sing some fave hymns of faith and inspiration. We hope you'll join us! If you would like to be on our email list (and are NOT already) and receive details about our events plus, please leave your name and address on Susan McCormack's desk (in the office), or send us an email at firstlutheranchurch@bresnan.net or give us a call at 442-5367!
Take a Break this Wednesday . . . Please join us for supper and worship and fellowship with your First Lutheran family and friends. Supper begins @ 5:30 p.m. and Worship @ 6:30 p.m.
The Bread of Life . . . comes to feed those who cry out, "Sir, give us this bread always." Jesus is the Bread of Life Who feeds His people with food that endures to eternal life. Come next Sunday to hear how He continually gives this bread for the forgiveness of your sins.
Next Sunday is Mite Box Sunday . . . Please remember to bring your mites next Sunday and place them in the LWML box. Thanks for supporting this ministry!
Another Hot Topic . . . will be discussed from a Biblical perspective in our Adult Bible Study in the Fellowship Centre, beginning at about 9:30 a.m. next Sunday. Please make your plans to join us and to grow in faith and in your understanding of God's holy Word!Be a Part of Camp Discovery VBS! . . . There are so many ways to be involved: leading songs, creating fun crafts, preparing and serving yummy snacks, playing games … and much more! Plus you will learn right along with the children all about Jesus our Savior and how He is at work through us. Interested? Call the church office (442-5367) and speak with Susan or Pastor Toombs to find out more!
Calling All Children . . . ages 4 through 6th grade! Camp Discovery Vacation Bible School registration is open! VBS will be held August 3-7, 9 a.m.-noon. Registration forms are available in the church office or online at www.firstlutheranhelena.org. Invite your friends, all are welcome!
The First Lutheran School Board . . . has an open position for School Director for the 2015 – 2016 school year. If you are interested in this position, please submit a resume and application by 5:00 PM on Monday, July 27th. Applications are available in the box located on the wall next to the school director's office.
Can You Help? . . . We are in need of clean, empty 2 liter soda bottles with covers for a craft project at MDC in Boulder. Please drop them off in the church office. Thanks!
Stuff the Bus . . . we are collecting items for Stuff the Bus over the summer. There are item lists on the bulletin board and on the collection box in Ziegler Hall. Your help is appreciated by all area students!
You Are Invited . . . to celebrate with Trinity Lutheran Church in Billings as Rev. Daniel P. Keinath is installed there as Associate Pastor. The installation service will take place Sunday, August 9 at 4:00 p.m. with a reception to follow.
Our Thanks … to Rachel Blair, Jeannie Hubbard and others for prepping Wednesday's Midweek Supper, serving it and cleaning up after!
The Food Share Items … for August are peanut butter, jams and jellies. Please place your food donations in the receptacle in the library. Thank you for supporting this local ministry!
On the Lutheran Hour Today … "Rescued," with Lutheran Hour Speaker Emeritus Rev. Ken Klaus. God's love and forgiveness is to be welcomed, savored, enjoyed, and relished. Drink deeply of His grace! (2Peter 2:9-10) Tune in Next Sunday: "What is Truth?" The Lutheran Hour may be heard Sundays on Christian Satellite Network, 91.1-FM at 8 a.m.