Newsletter & Announcements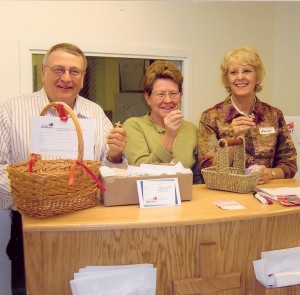 Guests … a special welcome to you! If you are looking for a church home we encourage you to consider First Lutheran! We love to share the Good News of our Savior and the help that God's Word gives for our everyday lives! We would love to tell you more about our congregation. Please join us
again!
Feasts and Festivals … of the Old Testament is our topical study in Bible class today at 9:30 a.m. Please bring your Bible and join us!
Our Next Study. . . beginning Sunday, September 11, will be series one of three about Martin Luther and the Protestant Reformation as we celebrate the 500th Anniversary of the Reformation. Watch for details!
God's Creation Calendars . . . Pre-order sale starts this week. Calendars will be arriving next month. The youth group will be selling them for $7 each, or $30 for 5 calendars. If you would like to order your calendar in advance, please sign-up in the fellowship hall and we will make sure you get your calendar. These make great gifts!
Take a Break this Wednesday . . . for supper (beginning at 5:30 p.m.) and a devotional worship service (starting at 6:30 p.m.) There'll be refreshments for the body and the soul!
Men's Fellowship Breakfast . . . will meet next Saturday, September 3rd at 8:00 a.m. at Shellie's Café (on Highway 12 East). Join us for fellowship and food with other men from the church. If you have questions, please contact Ryan Hultin, 431-2991, or RyHultin@mt.gov.
Next Sunday . . . is Mite Box Sunday. Please remember to bring your mites and place them in the large LWML box. Thank you for supporting missions!
WOW (Women of the Word) Bible Study . . . begins on Tuesday, September 6th at 7:00 p.m. at the church. We will be studying "The Fruit of the Spirit: Love, Joy, Peace." YOU are invited to join us. Pick up an information flyer at the Welcome Center.
HIS Kids! Choir . . . begins on Wednesday, September 7th at 5:15 p.m. Parents, please give this great opportunity to your child! Sign up by using the registration form in The First Word or talk to Shari Miller.
The Chancel Choir . . . will begin rehearsals for the new singing year on Wednesday, September 7th at 7:15 p.m. It will be a fun and exciting year with new music and a chance to glorify God with our voices. Please join us!
Confirmation & Pre-Confirmation Classes Orientation . . . will begin at about 7:15 p.m. on Wednesday, September 7. Students and an adult are asked to attend. Plans will be made for the year, questions asked and answered and information provided. If you have children entering grades 4-8, please plan to attend!
A Children's Book (Free!) Fair . . . will be held on Rally Day, September 11! Watch for more details!
Tuesday Noon Women's Bible Study . . . will resume September 13th. Carla Cross will lead the study; if you have questions, please call Carla, 458-0384.
Wednesday Bible Study . . . will resume September 14th at 11:30 a.m. in the church library. We will begin with a Bible study from Lutheran Witness entitled "So, This is Sainthood?" All are welcome. Please come and join us as we learn more about God's Word, have some good fellowship, and build up our faith.
The LWML Montana District Retreat . . . at Camp Utmost will be held September 16-17, 2016. The theme is "Treasured." Find out more information on the orange poster on the announcement board. Find retreat registration forms beside the Summer Issue of the Missive in the narthex foyer on purple paper. Pick up a copy of each!
The LWML Montana District . . . is one of four hosting districts for the LWML Convention in Albuquerque, New Mexico, in June, 2017. We need your help! The district has been asked to provide 1, 250 boxes of crayons (24 crayons per box.) If you can donate just one box of crayons, it would be appreciated. The collection box will be in the Fellowship Hall. Thanks!
Our Thanks … to Emy Stueve for preparing, serving and cleaning up after our Midweek Supper! We appreciate you!
Our Heartfelt Thanks . . . to our Sanctuary Cleaners, Steve & Melinda Longsworth, for your gracious service to us all! Bryan & Emy Stueve are scheduled for service this week! Thanks in advance for all you will do!
The Food Share Item … for September is cereal. Please place your food donations in the receptacle under the mailboxes in Ziegler Hall.
On the Lutheran Hour Today … "Boasting-Ridiculous or Real," with Lutheran Hour Speaker Emeritus Rev. Dr. Ken Klaus. Modern man boasts, "God is dead," but what have we gained from such thinking? (Galatians 6:14) Tune in next Sunday: "Choose Life!" The Lutheran Hour may be heard Sundays on Christian Satellite Network, 91.1-FM at 8 a.m.
"Life Quotes" from Lutherans for Life . . . "In an age when many question the morality of state-sanctioned executions of criminals or question the justification of war, it is beyond the pale that we would think we have the right to kill an unborn child." Abbot Tryphon, Vashon Island, Washington – A Life Quote from Lutherans For Life www.lutheransforlife.org