Newsletter & Announcements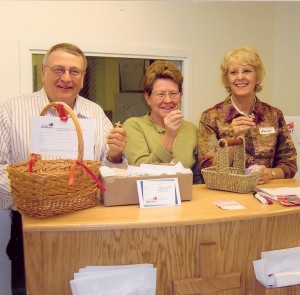 Monthly Newsletter
Guests . . . a special welcome to you! If you are looking for a church home we encourage you to consider First Lutheran! We love to share the Good News of our Savior and the help that God's Word gives for our everyday lives! We would love to tell you more about our congregation. Please join us again!
Our Study of . . . "The Li'ler Books of the New Testament" in Adult Bible Study, continues today at 9:30 a.m. in the Fellowship Centre. We will consider Second Thessalonians as we examine the big truths of God shown forth in these "li'ler books."
Thrivent Financial . . . Chapter 30515 is sponsoring our coffee hour today at 9:30 a.m. Materials will be available to help people better understand the new Thrivent Action Team concept. Please join us for treats and information!
Tuesday Women's Bible Study . . . will enjoy their Christmas potluck this Tuesday, December 16 during their study hour. The next meeting will be Tuesday, January 6. Christmas blessings to all!
Please Join Us for Our Special Advent Midweek Breaks . . . every Wednesday in Advent at noon or with supper beginning at 5:30 and worship at 6:30 p.m.!
An Announcement to A Virgin . . . is the theme for our worship services (beginning at 8:15 and 11 a.m.) next Sunday. His Advent Word has a life-changing message for each of us! Please join us!
The Board of Human Care . . . has decorated the Christmas tree again this year with names of our developmentally disabled members! This year's gift suggestion is a gift card, minimum value $10. You may place your gift in the basket near the tree. If you prefer not to shop, an envelope will be available for your cash donation; we will do the shopping for you. Please bring your gift by Wednesday, December 17. Thank you!
The Annual Christmas Pageant . . . and dinner for the disabled will be Thursday, December 18. Volunteers are needed to help set up, serve and clean up after the event; please speak with Lowell Bartels or Susan McCormack if you can help. Thank you!
Christmas Recess for First Lutheran School . . . No school until January 5! December 19 our school will present "A Christmas Alphabet Poem" at 10 a.m. You are invited to celebrate with us and share a birthday cake for Jesus. Students will be dismissed for Christmas vacation after the program.
God's Love Servant Event . . . We will serve a special Christmas dinner to the residents of God's Love on Sunday, December 21. A list of grocery items needed is posted on the bulletin board in Ziegler Hall.
"Caroling, Caroling, Here We Go!" . . . mark your calendar and plan to join us from about 3:30 to 6:30 p.m. on Sunday afternoon, December 21, as we Christmas carol to our shut-in members and others. They'll be blessed and you will too!
Christmas Services . . . will begin at 3, 5, 7, and 11 p.m. on Christmas Eve, December 24 and 10 a.m. on Christmas Day, December 25. Invite your family and friends and give them a very special Christmas gift as they hear the great Good News about Jesus, our Christmas-born Savior. See your December First Word or our Christmas Worship Invitations for further info.
Be Sure and Take a Gander . . . at the school bulletin board in Ziegler Hall. Wonderful seasonal artwork by the 4th-6th grade students at First Lutheran School!
New Member Classes . . . will begin after the beginning of the new year. For more information or to enroll, please contact us in the church office (442-5367) or on our web page firstlutheranchurch@bresnan.net.
You Were Hungry . . . and Taco John's fed you almost $900 worth of tacos and such! Thank you so much for supporting this fundraiser-our school will receive just shy of $445.
Thanks to . . . the Board of Elders for preparing, serving and cleaning up after our Wednesday night supper!
The Food Share Items . . . for December are tuna and ramen noodles.
On the Lutheran Hour Today . . . "In Christ, Unbroken," with Lutheran Hour Speaker Rev. Gregory Seltz. God's grace restores those broken by sin and grief. (Isaiah 61:1-4. 8-11). Tune in Next Sunday: "Surprised by Grace." The Lutheran Hour has been moved to K-Cap 950-AM, Helena's News and Information Station. Tune in Sundays at 9:00 a.m. This program is sponsored weekly by Tempest Technologies.
Life Thoughts . . . from Lutherans for Life. If there are words in Scripture that describe women and men burdened with post-abortion syndrome, we find them in Isaiah 61:1-poor, brokenhearted, captive. If there are words in Scripture filled with hope for those so burdened, we find them in Isaiah 61:1-good news, bind up, liberty, opening the prison. Jesus came for all sinners. May all sinners hear His Good News applied to them and be renewed with joy. Prayer: Lord Jesus, may all hear Your joyful Good News of healing and hope spoken to their hearts. Amen.