Newsletter & Announcements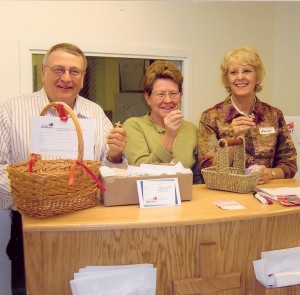 Monthly Newsletter
Guests . . . a special welcome to you! If you are looking for a church home we encourage you to consider First Lutheran! We love to share the Good News of our Savior and the help that God's Word gives for our everyday lives! We would love to tell you more about our congregation. Please join us again!
Are You Wearing Your Tag? . . . Please help our new guests and members get to know the nicest people around by wearing your name tag each Sunday. (New tags are available in your mail slot). Please let us know in the church office if you don't find a tag or if yours needs to be corrected. The rumor is that there will be prizes for some who are wearing their tag!!!
Angelology . . . is our current study of the mysteries and miracles of angels, beginning at about 9:30 a.m. this morning in the Sanctuary! Our lesson today: "Evil Angels Today" and the upcoming lesson is "Angels and Believers Today." Please join us for this study of these wondrous creatures of God!
Get a Lift . . . for the rest of your week by fellowshipping and worshiping with us each Wednesday. Supper starts at 5:30 p.m. and Worship begins at 6:30 p.m. Please join us! Holy Communion will be celebrated in this Wednesday's worship. It is guaranteed to make the second half of your week go better.
WOW . . . Women of the Word Bible Study resumes Thursday, September 18 at 7 p.m. Our new study is "Golden Fruit: Living the Fruit of the Spirit Through the Best Times of Your Life." Join us at First Lutheran Church to study, discuss, fellowship and pray around God's Word.
"Not Fair!" . . . we'll hear in next week's Gospel (Matthew 20:1-16). While we may often say that about our treatment by others, those who are quoted in this text are saying these whiney words to God. Please join us next Sunday at 8:15 or 11 a.m. to hear how God responds to them … and to us!
First Word Deadline . . . is Friday, September 19 at 5:00 p.m. Please submit your articles to Editor Linda Fromm by placing them in the First Word mailbox in the church office, or email them to fozziehoot1917@bresnan.net.
A New Pastor's Discovery Class is Forming! . . . If you or someone you know would benefit from Bible study, learning more about Lutheranism and fellowshipping with other Christians, please contact one of our pastors or call Susan in the church office (442.5367) and we'll be in touch.
ABC's and 1-2-3′s . . . are popping up everywhere with school back in session. The preschoolers are learning the names and sounds of letters. Kindergarteners are learning to "read" the letters and write them and the older students string letters into really big words and numbers into complicated math problems. As always, Jesus is central to all we learn in the classroom and out. We know He loves us so!
Schedule Your Appointment Today . . . to have your portrait taken for our new church directory! A table will be set up in Ziegler Hall, or you may make an appointment online through the church website, firstlutheranhelena.org. or call Bridget Michel at 449-2079. Our goal is to have all members included in the directory!
Heads Up! . . . Friday, October 24 marks the date for First Lutheran School's Annual Luau/Silent Auction. We want you to attend this delicious dinner and fabulous auction so put it on your calendars! We also need fabulous items to auction and you can help by donating something special from your business and/or creating something beautiful/delicious/useful. Check with Director Denise Underwood if you have questions or comments (442-6913). Thanks!
Our Thanks . . . to Cliff Ulmer and friends for preparing, serving and cleaning up after our Wednesday night supper!
Pastor Toombs and Sam . . . are in need of a few items of furniture for their new home. They are looking for two love seats (not large sofas, as they are on the 4th floor of their building); a TV stand; a dresser and upright chest for clothing; and one or two end tables. If you can help, please speak with one of them. Thank you!
The Food Share Item . . . for September is canned soup. The Food Share receptacle is now located in the library/music room. Thank you for supporting this local ministry.
On the Lutheran Hour Today . . . "That's Just Who God Is," with Lutheran Hour Speaker Rev. Gregory Seltz. The journeys of St. Paul teach us how God's message of grace has been translated so that all might believe. (Acts 2:1-39) Tune in Next Sunday: "Rome: The Gospel Comes to Law and Order People." Radio Stations: KAWZ 90.9 FM Sunday at 8:00 a.m. and KCAP 1340 AM Sunday at 9:00 a.m. This program is sponsored weekly by Tempest Technologies.
"Life Thoughts" From Lutherans for Life . . . The thread of forgiveness ties today's readings together. The life arena provides many opportunities for application of this great gift. In Christ, there is forgiveness for fornication that led to a teen pregnancy, for the abortion committed to solve the problem, for a father's failure to protect his child, for knowingly hastening the death of the suffering, for unfairly judging others in difficult situations. Prayer: Father, forgive our many sins for Jesus' sake and give us opportunity to share this forgiveness freely with others. Amen.