Newsletter & Announcements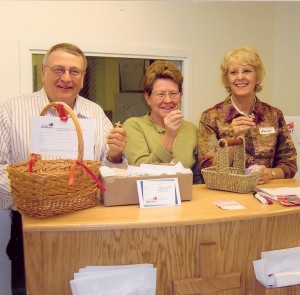 Monthly Newsletter
Guests … a special welcome to you! If you are looking for a church home we encourage you to consider First Lutheran! We love to share the Good News of our Savior and the help that God's Word gives for our everyday lives! We would love to tell you more about our congregation. Please join us again!
The Living End … is what we will consider as we study Daniel 8 today in the Fellowship Centre (beginning at about 9:30 a.m.). "True Confessions" could be our title for our upcoming lesson on Daniel 9.
"Experiencing the Joy of Generosity" . . . Today is the second week in our stewardship emphasis and we will look at "The Joy of Managing God's Blessings." As God's stewards, we are to manage faithfully the time, talents, and money that He has entrusted to us. Through faith, we understand that all that we are and have are gifts by God's grace in Jesus. To express our gratitude, we manage our blessings in ways that give our Lord praise and honor. Please join us next week when we will focus on "The Joy of Sharing God's Blessings."
Blessed Brunch Potluck … Today at 12:30 p.m. we will enjoy a blessed brunch potluck in the Fellowship Centre. Please bring a favorite brunch dish and join us for good food, fellowship and a celebration of blessings with your First Lutheran family. Friends are welcome!
Brian Young … from Creation Instruction will be here to present about Young Earth Science this Wednesday, November 18th after our midweek service. Please join us!
First Word Deadline … is Wednesday, November 18th. Please submit your articles to Editor Linda Fromm at lindafromm@mac.com or drop them off in the First Word mailbox in the church office.
The O.W.L.S. No-Turkey Thanksgiving Luncheon … will be Thursday, November 19 from 11 a.m. to 1 p.m. Any Older Wiser Lutheran Seniors members and friends 55+ish are invited to join us with a Thanksgiving dessert (but NO turkey). We'll have group-building activities, a Thanks-giving Bible study, good food and more. For further information, please call us at 442-5367.
"T" is for Taco … and for Thursday, November 19th. Plan on dinner at the Taco John's on Prospect between 5 & 7 p.m. Mention First Lutheran School when you order-eat-in or take-out-and our school will receive 50% of profits generated by our orders. That's very generous! See you Thursday!
Calling All Kids!! … The Children's Christmas service will take place on December 13th at the 11:00 service. The cast list will include every child who wants a part in telling the story of our Savior's birth! Please sign up by Nov. 7th in Ziegler Hall, or tell Pastor Toombs your child will participate. If your child plays a musical instrument, we'd love to have them in the service. Christmas program practices will be as follows: Sat. Nov. 21, 10:30-12:00, Sun. Dec. 6 and Sun. Dec. 13, 9:45-10:45. For more information please contact Tara Mercer, 443-0171 or Kim Hoxie, 509-521-9982.
Our School Students … are conducting a food drive for Helena Food Share before Thanksgiving. Last year they 503 pounds of food, and hope to top that this year. Also, each class will make up a box for Operation Christmas Child. The "shoebox" contains small gifts, personal items and school supplies for a child.
"Bedknobs and Broomsticks" … is our movie selection for our November Brunch and Movie Event. Sign up in Ziegler Hall to bring a treat to share, and join us Saturday, November 21st at 11 a.m. in the Fellowship Centre for this fun time!
Women's Christmas Event: A Reason to Rejoice! … will be held at First Lutheran Church on Thursday, December 3, 2015 from 6:30 to 8:30 p.m. ALL women of FLC are invited to join us for Advent by Candlelight, carol singing, gifts, and refreshments! Set this special evening aside and plan to join us!
Our Thanks … to Pastor Toombs, Rachel Blair, Jeannie Hubbard and members of First Lutheran School Board for preparing, serving and cleaning up after our Wednesday night supper!
Thank You to … Mrs. Mousel's preschool classes for enhancing our worship with your music on Wednesday. Hearing children praise our Lord brings joy!
First Lutheran School … has a wonderful employment opportunity! We are looking for a Before/After School Provider for our students. The position is 19 hours per week, with a pay rate of $8.75/hour. We are looking for an energetic and creative person who enjoys working with children! The hours are 7:30 – 8:15 a.m., and 2:45 – 5:45 p.m. M-F. We can split the position into two positions, morning and afternoon. This position is great for someone who wants to gain experience in the field of education, or for those seeking educational positions. For more information, please call Mrs. Toombs in the school office, 442-6913.
Can You Help? … We are looking for person(s) who would be willing to make coffee and set out cookies on Sunday mornings for snacks between services. If you can help with this, please call Susan in the church office, 442-5367.
Baby Bottles … If you have not yet returned your filled baby bottle to benefit Options Women's Clinic, please bring it to the church office as soon as possible. Thank you!
The Food Share Items … for November are boxed dinners, such as macaroni & cheese. Please place your food donations in the receptacle in the library. Thank you for supporting this local ministry!
On the Lutheran Hour Today … "Readied for that Time," with Lutheran Hour Speaker Rev. Gregory Seltz. Our most advanced technology soon becomes worthless and obsolete, but God has a life for you in Jesus that lasts forever. (Mark 13:1-13) Tune in next Sunday: "Our Heart-Song of Thanks." The Lutheran Hour may be heard Sundays on Christian Satellite Network, 91.1-FM at 8 a.m.
Life Thoughts in the Church Year … Jesus tells us that before the end fathers will deliver their children to death, and "children will rise against parents and have them put to death" (Mark 13:12). He warns, "And you will be hated by all for my Name's sake" (13:13a). Abortion, euthanasia, l9oss of religious liberty-be on your guard. But do not lose hope. The one "who endures to the end will be saved" (13:13b). Prayer: Lord, help me endure. Amen.