Newsletter & Announcements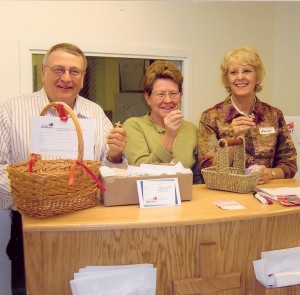 Monthly Newsletter
Guests . . . a special welcome to you! If you are looking for a church home we encourage you to consider First Lutheran! We love to share the Good News of our Savior and the help that God's Word gives for our everyday lives! We would love to tell you more about our congregation. Please join us again!
Our Study of . . . "The Li'ler Books of the New Testament" in Adult Bible Study, continues today at 9:30 a.m. in the Fellowship Centre. We will consider Second Thessalonians as we examine the big truths of God shown forth in these "li'ler books."
High School Youth . . . are ALL invited to join us today at 12:30 p.m. at First Lutheran. We will provide a pizza lunch, enjoy a short devotion, then do some calendar planning for upcoming months. We are interested in hearing what activities YOU would like to engage in, so your input is valuable! Please attend!
Please Join Us for Our Midweek Break . . . every Wednesday with supper beginning at 5:30 and worship at 6:30 p.m.!
"Empowered by Grace to Give and to do our Best". . . is next Sunday's worship theme! Please join us at 8:15 or 11 a.m. and grow as a manager of God's blessings!
Karen and Sid Lebahn . . . invite you to an open house at our new home in Helena November 16. The address is 3494 Curlew St. The time is 1-4 p.m. There will be a blessing of the house at 2 p.m.
Coming Up on Thursday, November 20 . . . your opportunity to eat well and not cook! First Lutheran School will receive 50% of every purchase at Taco John's on Prospect Avenue from 5-7 p.m. You must present a flier, so pick one up before November 20 from the school office or Denise Underwood.
Chancel Choir . . . is in need of a piano player to accompany them. If you are interested, please speak with Gary Walker ~ thank you!
Please Continue to Vote . . . online for Trinity Lutheran School in Billings to help them be awarded a $100,000 grant from Farmers' Insurance! You can vote daily at www.thankamillionteachers.com from now until November 30. Thanks for supporting our sister school and Lutheran education!
Thanks to . . . Rachel Blair, Jeannie Hubbard, Denise Underwood, Shari Miller, Bridget Michel, and others for preparing, serving and cleaning up after our Wednesday night supper!
The Food Share Items . . . for November are boxed meals, i.e. Hamburger Helper, etc. The Food Share receptacle is now located in the library/music room. Thank you for supporting this local ministry.
On the Lutheran Hour Today . . . "S.O.S. … Call Upon Jesus," with Lutheran Hour Speaker Rev. Gregory Seltz. God's SOS brings real lasting hope and rescue, an SOS that shows us our Savior. (I Thessalonians 5:9-11) Tune in Next Sunday: "Clean – And Thankful." The Lutheran Hour has been moved to K-Cap 950-AM, Helena's News and Information Station. Tune in Sundays at 9:00 a.m. This program is sponsored weekly by Tempest Technologies.
Life Thoughts from Lutherans for Life . . . "Faithful" is the key word in Matthew 25:14-30. "Faithful" is the key word as we live trusting in God Who united us with Christ's death and resurrection in our baptism. He calls us to remain faithful to His truth, and we dare not "bury" any of it-such as truths about life and marriage-simply because they are controversial. While avoiding such issues may bring praises from people, we desire to hear our God say, "Well done good and faithful servant" (Matthew 25:21a). Prayer: Father, give us courage to be faithful to all aspects of Your truth. Amen.