Newsletter & Announcements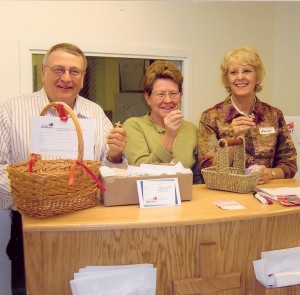 Guests … a special welcome to you! If you are looking for a church home we encourage you to consider First Lutheran! We love to share the Good News of our Savior and the help that God's Word gives for our everyday lives! We would love to tell you more about our congregation. Please join us again!
A Warning – is at the center of our Bible study of Hebrews 12 today, beginning at about 9:30 a.m. with coffee, in our fellowship area. Please join us as we study God's Word and are encouraged to remain faithful to Christ, our Savior.
"The Widow's Offering" – serves as the focus of the Sunday School lesson for today. Just as the widow gave all she had to God, trusting Him to provide and care for her, so Jesus gave His all for us, who fail to trust in God for all things. Consider discussing, "How was the widow's offering different from the others? How has God given us His greatest treasure?"
"Judgment" – When Pontius Pilate is called upon by the crowds to make a judgment call about Jesus, his decision NOT to decide results in the death of Christ. Beginning at 12:10 and 6:30 p.m. on Wednesday – we'll be encouraged to look to the cross of Christ to make definitive judgment calls in our lives. Please join us as we meet Christ – "At the Cross+Roads!"
Jesus Heals A Man – in our Gospel for next Sunday (John 9:1-41)! Is it a healing only of his sight, or an even greater healing? Join us next Sunday beginning at 8:15 or 11 a.m. as God speaks to our hearts and lives and blesses us, once again, through His mighty Word!
First Word Deadline – is Wednesday, March 22. Please submit your articles to Editor Linda Fromm by emailing them to lindafromm@mac.com, or placing them in the First Word mailbox in the church office.
The Sleeping Giant Boys' Choir – is performing their annual concert on Tuesday, March 21 at 7 p.m. in the Capital High School Auditorium. Come and enjoy hearing, for free, area 4th and 5th grade boys-including AJ Buhr-sing a variety of songs!
First Lutheran School News – Crunch for a Cause, our fundraiser we have with Taco John's is coming up on Thursday, March 23, from 5-7p.m. There is a fallout flyer that you can use as a reminder and also take it with you to present when you order. We will be at the Prospect Ave. location and the flyer works for both drive through and dining in. 50% of your bill goes toward First Lutheran School, which makes this a great way to help our school! Our K-6th graders will be singing during the noon Lenten service on March 22nd. If you haven't been able to hear them sing yet, this will be your next opportunity.
God's Love Servant Event – On Sunday, March 26th at 2:30 p.m. we will prepare and serve dinner to the residents of God's Love. A list of items needed for the meal is posted on the bulletin board in Ziegler Hall. If you would like to contribute or help, please sign up ~ thank you!
Attention All Boards – It is time to start preparing for our annual spending plan for the new fiscal year. Our accountant, Dick Bridegroom is requesting that all boards submit their plans to him by Palm Sunday, April 9th. If he does not receive information, he will calculate your budget based on past use and what information he does have. It is important that you provide Dick with any new programs you have in mind, so that these may be considered when the spending plan is presented for approval. Thank you for your help with this!
Our Next Pastor's Class – is scheduled to begin after Easter, in mid- April. Watch for more info coming soon!
The Food Share Items – for March are boxed dinners. Please place your food donations in the receptacle under the mailboxes in Ziegler Hall.
Our Heartfelt Thanks – to our Sanctuary Cleaners, Dennis Brown & Carla Cross, for your gracious service to us all! Jean Hanson & Sandee Riemann are scheduled for service this week! Thanks in advance for all you will do!
Thank You – to the Board of Elders for preparing, serving and cleaning up after our midweek supper. We appreciate your service!
On the Lutheran Hour Today – "A Well That Runs Deep Because You Need It," with Lutheran Hour Speaker Rev. Dr. Gregory Seltz. Jesus is determined to meet you today with the water of grace only He can give. (John 4:5-26) Tune in next Sunday: "God's Got It In For Me." The Lutheran Hour may be heard Sundays on Christian Satellite Network, 91.1-FM at 8 a.m.
"Life Quotes" from Lutherans for Life – God our Father can draw water from rock (Exodus 17:6), reconcile His own enemies (Romans 5:10), and salvage the powerless (Romans 5:6). Surely He will overhaul the hopeless circumstances and lost causes our pains and mistakes have brought about (John 4:17-18). Indeed, we not only witness it but participate in it as well (Exodus 17:5). Keeper of our souls, work faith in us and those we serve to await great transformation at Your hand. Amen.