Newsletter & Announcements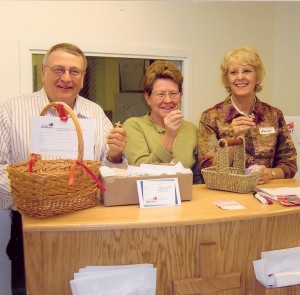 Monthly Newsletter
Guests . . . a special welcome to you! If you are looking for a church home we encourage you to consider First Lutheran! We love to share the Good News of our Savior and the help that God's Word gives for our everyday lives! We would love to tell you more about our congregation. Please join us again!
Please Continue to Wear Your Nametag . . . so that others may know who you are and get to know you better!
Please Join Us This Afternoon … between 1 and 5 p.m. (Elders' Zones are assigned times in our October First Word) to meet and greet Pastor and Samantha Toombs and your elder and the other members of your zone.
"The Li'ler Books of the New Testament" . . . is our new Adult Bible Study, TODAY at 9:30 a.m. in the Fellowship Centre. Please join us as we begin this new study examining the big truths of God shown forth in these "li'ler books."
The First Word Deadline . . . is Monday, October 20 at 5 p.m. Please submit your articles to Editor Linda Fromm by emailing them to fozziehoot1917@bresnan.net or place them in the First Word mailbox in the church office.
Give You a Break? . . . We're pleased to do so, every Wednesday with supper beginning at 5:30 and worship at 6:30 p.m.!
God's Love Servant Event . . . is today! If you'd like to help serve dinner to the residents there, meet us at God's Love at 2:30 p.m. Thank you!
Friday is the Big Day! . . . Get your tickets for First Lutheran School's Luau & Silent Auction, held this Friday, the 24th at 6 p.m. Pre-event ticket sales help us plan for enough of that delicious food. Additionally, your donation of items to auction brings in important funds for our school. Not sure what to donate? Gift cards, themed baskets/packages and services matching those who do something with those who want it done – just a couple of ideas.
Keep This on the Q-T, Please! . . . Only a few of us should hear these great deals. Come to the school's Luau/Silent Auction so you can bid on tickets for a Carroll College game, season tickets to the men's Griz basketball games, a tailgate-themed package and various power tools. Other items: gift cards, jewelry, family packages, handcrafts and a BIG dollhouse! Only at the Luau/Silent Auction on Friday! Shhhh…..
Take Your Stand . . . with Martin Luther, the other reformers, and so many others standing on the truth of God's Word. Celebrate the Reformation with us in our 8:15 and 11 a.m. worship services next Sunday!
Trunk or Treat . . . Join us Friday, October 31 from 5:30-7:00 p.m. This is also Reformation Day, so if you don't have a costume in mind, dress as your favorite Reformer or Biblical character, and some of them were quite the character! We are also in need of volunteers to help supervise the games and activities. If you don't feel like being responsible, decorate your trunk, tailgate, or covered wagon and help us hand out candy!
HELP! . . . First Lutheran's Chancel Choir is in need of a piano player to accompany them. If you are interested, please speak with Gary Walker ~ thank you!
Please Continue to Vote . . . online for Trinity Lutheran School in Billings to help them be awarded a $100,000 grant from Farmers' Insurance! You can vote daily at www.thankamillionteachers.com from now until November 30. Thanks for supporting our sister school and Lutheran education!
Our Thanks . . . to Jeannie Hubbard, Rachel Blair, Susan McCormack, Shari Miller, our confirmation students and others for preparing, serving and cleaning up after our Wednesday night supper!
Thanks Also . . . for the celebration, many cards, good wishes, gifts, and prayers for Pastor's Appreciation Day and Pastor Miller's Birthday last Sunday! We both feel so richly blessed. ~ Pastors Toombs and Miller ~
News from Our Kitchen . . . If you have left dishes in the kitchen, please pick them up today! Also, please consider signing up with a friend (or several!) to prepare a midweek dinner. Simple meals are best, i.e. soup or sandwiches; menu ideas and other resources are available in the church office. We all enjoy this midweek break, let's work together to continue it!
The Food Share Items . . . for October are canned fruits and vegetables. The Food Share receptacle is now located in the library/music room. Thank you for supporting this local ministry.
On the Lutheran Hour Today . . . "God's Peacemakers for a Troubled World," with Lutheran Hour Speaker Rev. Gregory Seltz. Jesus calls and enables us to be peacemakers who share His gifts with others in a broken world. (Philippians 4:4-13) Tune in Next Sunday: "Keep It Simple and Straightforward." Radio Stations: KCAP 1340 AM Sunday at 9:00 a.m. This program is sponsored weekly by Tempest Technologies.
Life Thoughts from Lutherans for Life . . . Like Cyrus of old (Isaiah 45:1-7), rulers and nations are but instruments in God's hands whether they know Him or not. We give "Caesar" his due allegiance (Matthew 22:21). But our true allegiance belongs first and foremost to God who, through Jesus, "delivers us from the wrath to come" (1 Thessalonians 1:10b). Prayer: Enable us to respect the government You have given us without ever compromising Your truth. Amen.