Newsletter & Announcements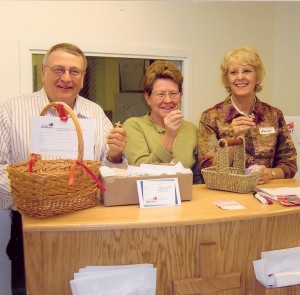 Monthly Newsletter
Guests . . . a special welcome to you! If you are looking for a church home we encourage you to consider First Lutheran! We love to share the Good News of our Savior and the help that God's Word gives for our everyday lives! We would love to tell you more about our congregation. Please join us again!
"One Chapter Wonders" . . . are our current books of "The Li'ler Books of the New Testament" in Adult Bible Study, Sundays at 9:30 a.m. in the Fellowship Centre. We will consider Jude as we examine the big truths of God shown forth in these "li'ler books."
Take a Midweek Break . . . with your church family at First Lutheran each Wednesday. Supper begins around 5:30 p.m. and Worship at 6:30 p.m.
New Member Classes . . . will begin Thursday, February 12! For more information or to enroll, please contact us in the church office (442-5367) or on our web page firstlutheranchurch@bresnan.net.
No Cooking for You on Monday, January 26! . . . Get your lunch and/or supper from Buffalo Wild Wings and help First Lutheran School at the same time. BWW will donate 20% of the guest tab proceeds of that day to our school-just show your coupon and dine away! Coupons available from Denise Underwood today!
We Celebrate Lutheran Spirit Week . . . Monday-Friday, January 26-30 at First Lutheran School. The theme this year is "Mercy Forever–Standing in Christ, Serving Others." Pastor Toombs will lead morning devotions on Monday and Friday. Lots of fun activities are planned for the week, beginning with our Buffalo Wild Wings Fundraiser on Monday. We'll end the week with Kindergarten Roundup on Friday!
A Great Opportunity . . . If you have a child ready for kindergarten this coming school year, First Lutheran School is offering Kindergarten Roundup on Friday, January 30 from 9-11 a.m. Children will have a chance to experience a typical morning's lessons and meet the kindergarten teacher. Spaces are limited; please call Denise Underwood to secure a place for your student (442-6913) or if you have questions.
Evil Spirits, In Church? . . . in our Gospel for next Sunday (Mark 1:21-28) Jesus shows His power over these forces and in His peoples' lives. What does that mean for us? Join us at 8:15 and 11 a.m. to witness the power of God in our lives through His Word and Sacraments.
First Edition Book Club . . . will meet Saturday, February 7 at 12:15 p.m. at Karen Lebahn's home. Our current read is "The Boys in the Boat" by Daniel James Brown. Please join us for luncheon and discussion. RSVP your hostess: 422-0443.
Ash Wednesday . . . and the beginning of the Season of Lent are on February 18. We will hold midweek services throughout Lent on Wednesdays at 12:10 and 6:30 p.m. Make your plans now to journey through Lent with your fellow-believers in Christ!
Pastor James Mavis . . . will be installed as Pastor of St. Mark and Zion Lutheran Churches of Butte and Whitehall TODAY at 4 pm. at St. Mark, Butte. Pastor Mavis is coming from Arizona, but he has previously served at Miles City. All are invited to this colorful celebration worship and a reception following.
Polar Plunge . . . to benefit the Special Olympics of Montana will take place February 14 here in Helena. Sam Toombs will participate! She has "taken the plunge" previously in Chicago and Indiana. If you would like to sponsor Sam as she raises money for this worthwhile organization, please ask her for details or check out this website: www.firstgiving.com/fundraiser/SamanthaToombs/sweetheart-passion-plunge-2015.
Our Gratitude to . . . Pastor and Sam Toombs and others for preparing, serving and cleaning up after our Wednesday night supper!
First Lutheran School . . . is in need of a Before-School-Care person. The individual in this position watches students from 7:30-8:15 a.m. and is needed on Tuesdays and Thursdays. If you are interested, please speak with School Director Denise Underwood, 442-6913.
The Food Share Items . . . for February are fruit juices.
Please place your food donations in the receptacle in the library. Thank you!
On the Lutheran Hour Today . . . "Just the Facts," with Lutheran Hour Speaker Emeritus Rev. Ken Klaus. God's truth, as revealed in the Bible, remains true regardless of whether anyone believes it or not. (Isaiah 5:20-21) Tune in Next Sunday: "Boring? Not Likely!" The Lutheran Hour has been moved to KCAP 950-AM. Tune in Sundays at 9:00 a.m. This program is sponsored weekly by Tempest Technologies.
"Life Thoughts" . . . From Lutherans for Life. Today's readings call for repentance. We could rail against our culture that, like Nineveh of old, it needs to repent (Jonah 3:1-5). But repentance needs to start with each of us. Do we commit the sins of our culture? Do we condone them, turn a blind eye to them, or remain silent when we should speak? "Repent," says Jesus, "and believe in the Gospel" (Mark 1:15). Forgiveness abounds for those who do!