Message From Pastor Miller

Some Summer-time Thoughts from Pas+or Miller
Several summers ago, toward the end of July, I called on a few member families whom I had not seen at First Lutheran since the end of the school year. At one of the homes, when I mentioned that we were missing them in worship, Sunday school and other activities at the church, one of the boys replied: "Pastor, we're taking a vacation from Jesus, like we always do in the summer." Needless to say, I was astonished and the family and I spoke together about the implications of such a practice. (FYI: NO positive results of such a vacation were discovered). Sadly, this particular family (along with others over the years) did not return when fall and school-time rolled around.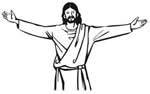 Instead, I would like to offer a different (and I believe better) summer plan: Instead of a "vacation FROM God," what if we made June through August a "vacation-time WITH Jesus"? Actually, it is not original with me. It is God's plan, expressed best by Jesus, when He invited His disciples to "Come away with Me." (See Matthew 4:19; 9:9; 10:1; 17:1; 20:17; 26:36-37; 28:16.)
Worship, on Sundays and Wednesdays Bible study and Sunday school will be continued at First Lutheran throughout the summer at their usual times. Portals of Prayer, My Devotions, and Happy Times devotionals will be available for every day of the summer (We could take them with us when we travel!). Speaking of traveling: See www.LCMS.org to find the locations and worship and Sunday school times for every LCMS church in the nation (and into the world).
Special events at First Lutheran this summer include:
The Ugandan Kids Choir (UKC) Concert on Wednesday, June 14. A BBQ will be held before (beginning at 5:30 p.m.) and the concert will replace our regular worship (beginning at 6:30 p.m.)
OWLS (Older, Wiser, Loving Seniors) for folks 55+ish, will lunch with the UKC on Thursday, June 15 from 11 a.m. to 1 p.m.
Bible Study beginning at about 9:30 a.m. each Sunday in the Fellowship Centre, will center on topics of interest for Christians today.
Monthly Youth (FLY) Activities (including camps) for Middle-schoolers and High-school are also being planned as I write.
Vacation Bible School (VBS) held in the morning each day from July 30-August 4, is always a summer highlight for our children (of all ages).
Father's Day, 4th of July, Labor Day and features for other days through the summer will also be special blessings.
Vacation-time WITH Jesus? Let's give it a try. I believe that if we do, this could be our best summer ever! He will not take a vacation from us, but will pour out His forgiveness and love as He always does.
Blessings to you and yours this summer and always!
In Christ,