Message From Pastor Miller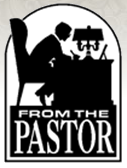 Sometimes I wish we could have been there on the first Easter morning. Wouldn't it have been exciting to look at the rolled-away stone, and then enter the empty tomb? Wouldn't our hearts have thrilled to hear angels say: "He is not here. He has risen!"
But, then we think of what we know about those eyewitnesses. Two words capture their most common feelings of the day: confusion and fear. They did not awaken Easter morning to sing: "I know that my Redeemer lives; What comfort this sweet sentence gives!" We can. We have what they did not have three days after that awful crucifixion. We have Easter eyes! We can see Easter with clarity and meaning.

So did Job. Job lived long before Jesus was born—maybe even before Moses. He didn't know all of the details of the life and death of his Redeemer. He didn't even know that the one who would pay his ransom would be called Jesus of Nazareth. But he did know he would be rescued from sin, death, and the devil. He did know that his debt to the Holy One would be paid—and that his Redeemer would live forever.
This he knew for certain. He could see this with the eyes of faith. He knew, proof-positive that this was true, even if he died before it happened. In fact, he knew he would see that living Redeemer with his very own eyes, even though his body had already rotted in a grave somewhere. His body would rise from the dead, even as would his Rescuer's.
He knew this for certain, thousands of years before it happened, just as we know it for certain, thousands of years after it happened. How did he know? The living God told him. Just as he tells us! Job's confident faith rested upon the testimony of the Holy Spirit—the same place where our faith stands.
Our vision of Easter is even clearer than what those first eyewitnesses saw. They could only see what their eyes could see. Our eyes of faith can see the additional details that God has chosen to show us in his inspired Word.
We know the stone was rolled away by an angel. We know that the alive-again Jesus had made a victory lap through hell before he showed himself on earth. We know that his disciples would see the wounds in his resurrected body—and be invited to touch them.
Like Job, we know that since our Redeemer lives, we shall live also. We shall see our Savior with our own eyes, even as Job sees him now. Praise be to our risen and living Savior, like Job, we have Easter eyes!
Rich blessings … in all that you see this Easter
… and during the many days beyond!

---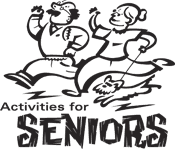 A Note for "Senior" Adults . . . from the "Senior" Pastor . . .
Save the Date: Thursday, April 23, 11 a.m.
for a Senior (older) member Potluck and Activity!
Watch for further details!